JOHN GREGOR STORY
- by Marjorie (Gregor) Osinchuk
I am going to try and write the story of my father, John Gregor, as he was a wandering type and always liked to have several things going at the same time. I hope I can get things in the proper order. I will try and get the dates as near as possible.
Johnny, as he was known to his friends and neighbors, was born in Gladstone, Manitoba, on November 4th, 1904. He was one of a family of twelve, three are still living at time of writing.
Johnny came to the Dewberry district in 1917 at the age of thirteen. He came to live with his sister and brother-in- law, Emma and Ed Brett. Not having lived on a farm before things were quite new to him. One incident that Emma still remembers was when Ed sent him out to water the bull. The bull was tied in the barn and when Johnny went to get him he led the bull to water and tied the rope around his waist while the bull was drinking. When Emma saw Johnny from the kitchen window she was horrified, expecting to see the bull drag Johnny off across the yard. It didn't take Ed long to get out there and avert any possible danger, and to let Johnny know in no uncertain terms you did not take such foolish chances with animals.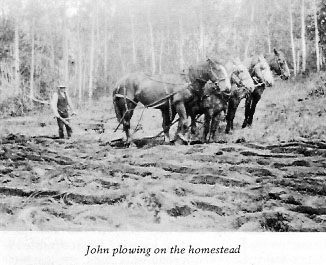 He helped haul grain by wagon box to Islay, sleeping in straw stacks at night. He also hauled freight between Dewberry, Islay, Kitscoty and Marwayne.
John's dad, Fred Gregor, moved from Winnipeg in 1913 and settled on a homestead at Laurier Lake where Johnny and his brother Bill farmed together from 1924 to 1943.
Johnny's mother moved out with the last daughter, Martha, a few years later. During this time they (Johnny and Bill) built a dance hall on the lake shore, also fixed up a resort, with tennis court, ball diamond, supplied slides and diving boards, and had boats for rent.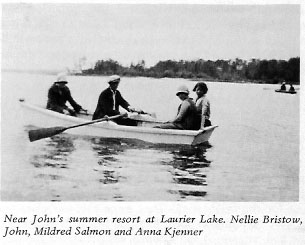 At this time I would like to mention an incident about his son, Allan. When Dad went down to the lake shore to check his boats this particular day, he found his five year old son, Allan, had got one boat loose and was merrily drifting across the lake. He was nearly to the opposite side when Graham Gardiner took after him in his motor boat and brought him safely back.
During this time he also spent some time working for Andy Boyd or peddling fresh meat in the Frog Lake district. There he met his future bride, Margaret Boyd. They were married on September 2, 1936. He brought his bride back to Laurier Lake where they continued running the resort and farming. About this time he also started to work for Glad Horton on a part time basis, as Mr. Horton did not need him to be there all the time.
While living at Laurier Lake three children were born; Allan in 1937, Marjorie in 1938, and Velda in 1943. The family used to spend most Christmases with Margaret's parents at Frog Lake. One incident I can well remember was on our return home after Christmas day. Our one horse cutter was loaded down with three kids wrapped in blankets, warm bricks to keep our feet warm, presents, a large crock of homemade butter and some fresh meat. When we got within a half mile of home the horse, "Old Bell" just stopped in a snow bank and died standing up with the harness on. We were well loaded down on our half mile walk home as Velda was just a baby. She couldn't help carry anything, she had to be carried.
Dad helped the Frog Lake Community raise money for their hall by playing hockey and acting in some of their plays. He also helped with hammer and saw. Johnny was elected as the first president of the Frog Lake community hall.
In the early 1940's Dad and Les Rainboth also tried their luck panning for gold in the North Saskatchewan River near Heinsburg, Alberta. Some days they brought out as much as $2.00 worth. Other days? Well, we'll say they were trying.
In the spring of 1944 he moved the family to Heinsburg to spend the winter, and the following spring moved to a farm he had bought in the Frog Lake district from a Mr. Buchanan. He farmed there till the spring of 1956. During this time he still worked for Glad Horton and he and brother-in-law Jimmy Boyd, would work together during harvest.
Another incident brought to mind was during harvest, the threshing crew's last day. They were having supper at our place when Jimmy Boyd, Iver and Vernon Gunderson (there were others but I don't remember their names) got into a pie throwing contest and believe it or not it was lemon pie. I don't know if there was a winner but sure know my mother was the loser as she had to clean up.
Dad could not make a living on the farm alone so he left his wife Margaret to manage things a lot of the time while he went out working. He would come home for spring and fall as well as week-ends whenever he could. He worked at the coal mines in the foothills and Coalspur as a carpenter. While on the farm two more girls were born, Lila Jean 1949 and Elaine in 1953.
In 1956 they sold the farm and Margaret moved into Heinsburg and managed the cafe in Paul Buck's hotel. Dad went to Hinton to cut cord wood for the new pulp mill that was being built at that time. Allan joined him in 1957 and worked there till 1972. Dad moved his family to Edmonton in October 1957. He went to work for a house building company, Dale Brothers and Lyle Reed, building some of the plush homes in the Laurier Park and Grand View area. At this time he also was on the campaign trail, campaigning for John Deifenbaker. He worked with Mr. Deifenbaker about six months till the election was over in which Mr. Deifenbaker became our Prime Minister. He also worked for a mining company in Edmonton under the direction of a Mr. Hallmark. Dad traveled across Canada checking uranium fmds.
John and Margaret celebrated their 25th wedding anniversary on September 2, 1961 at the farm home of their daughter Marjorie. The rest of the family were also present. A number of old friends from Frog Lake and Heinsburg were also there to help them celebrate. A granary was pulled up to the house where dancing took place.
In 1962 Dad suffered his first cornary heart condition and had to leave the carpentering business. He did not work for a year while recovering. Then in 1963 he got a job as night watchman at Kresge's department store. He worked there three years, at the same time he got his journeyman's papers as a baker. He then went to work for Wooden Shoe Bakeries, baking fancy pastries and decorating them. He worked there for two years, during which time he suffered several heart attacks. He left this job when the owner had to sell due to ill health. Dad then went to work at Avord Arms high rise apartments repainting suites. He was then in failing health.
In June 1970 Dad suffered his worst heart seizure and never really recovered. However, in late June, he was able to take Mother and Elaine and a friend of Elaine's, Judy Shewchuk, on a trip that they had been planning for the last two or three years. They toured Southern Alberta, Northern Montana, Wyoming, Idaho, Washington and on to British Columbia, Vancouver, Victoria and Kelowna. The weather was so hot at Kelowna, 90 degrees above at night, that they did not linger there too long. They came back around the end of July and spent a month camping at Whitney Lake and visiting old friends. Dad especially enjoyed coming out on week-ends to go fishing with son-in-law Willie Osinchuk and grandchildren Darrell, Jimmy, Sharon and Janice Osinchuk. A good many fishing trips were enjoyed by all, even those fish that got away. His one big ambition in later years was to see his two young grandsons, Troy Bodnar and John Gregor Jr., catch their first fish. Troy got his while fishing with his grandfather, but I know John never was able to catch one while with his grandfather.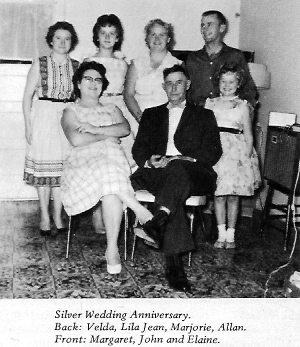 In the fall of 1971 Dad entered the hospital due to more heart attacks, one of which left him blind for 48 hours. On December 1st, 1971 he suffered a stroke and was pretty well bedridden from then till his passing on June 10, 1972. He did recover to a degree, and was able to be home from time to time, with help.
His children are scattered around now and on their own. Allan was married in February 1963 to Donna Tudor of Lethbridge. They are living in McKenzie, British Columbia, and have four children - three sons and one daughter, including a set of twin boys. Allan is a first class steam engineer at the Pulp and Paper Mill. I, Marjorie, married William (Willie) Osinchuk, a farmer and musician in the Landonville district. We have four children, two boys and two girls. Willie and son Darrell also play with the Heinsburg Old Timers Orchestra. Velda married Francis Gratton, formly of Clandonald, Alberta. They have two sons and are living in Edmonton.
Lila Jean married Allan Bodnar and had two children, one boy and one girl. They are separated. Lila has since adopted another son. Elaine is still single and living in Edmonton.