JOHN AND CUBA NICHOLS
I was born on June 30, 1889 in Putnam County, Ohio, the ninth of Amos and Martha Ellen Nichols' eleven children. At the age of 17 I left the farm to work at rough grinding for National Cash Register of Dayton, Ohio. A year later I signed on as brakeman with the C, H & D Railroad, with home terminal at Lima, also in Ohio. It was in this town that I met Cuba Schwartzkopf in the fall of 1910. Six years earlier her father had died, and she had gone to work rolling cigars at the Disel Werner factory in Lima. We were married on January 21, 1911, and she continued to work until shortly before the birth of our daughter, Evelyn, in August 1912.
In July of 1913, as I went to swing around the corner of a box car to signal that a brake beam was dragging, I fell between two cars. I managed to get all my body off the track except my left hand, which I was pushing with. The train wheel did not sever it, but only the thumb and forefinger remained, stripped of flesh. After setting the air to stop the train, and arranging with the conductor to take over my duties, I went into town, which was Weston, and got the doctor out of bed. When the hand was wrapped, I rode on our train to hospital in Perrysburg, thirty miles away. There my hand was amputated during my week's stay.
Later, when I went back to the hospital to sign some papers regarding the accident, I still was unable to sleep, and Cuba was very worried. My "phantom hand" was cold, so I asked what had been done with it. "Buried," was the answer. "Dig it up and burn it," I said, and returned home. Some time afterwards I suddenly went to bed and fell into a deep sleep. In fact, I slept so long that I missed one day in my life completely, and Cuba was again worried - this time because I didn't wake up. When we checked back, we found that I had fallen asleep at the very time the hand was burned! Strange, but true: a type of situation experienced by many other accident victims.
Cuba had gone back to work, but in June 1914 we came by train to Kitscoty. At a restaurant there we decided to try something new for breakfast. It was "porridge." When it arrived, we found it was what we called "mush" back home in Ohio. From Kitscoty we hired a driver with team and democrat to take us to my brother Alvin's at Mooswa. First we lived on the old Granger place, on the east side of Laurier Lake. We later bought the Datzer (Harry Jenner) farm, and the fall of 1915 harvested forty acres of Red Fife wheat. This land was sold to Sillem, and we moved to the McIntosh farm near Black Horse Lake.
After our sale in 1916 I returned to the U.S. to telegraph school at Valparaiso, Indiana. When I had a copying speed of about twenty words per minute I heard of a position available at Slocum Junction, a suburb of Detroit, Michigan. I became operator of a twenty-five-lever tower for trains of the N.Y. Central, Michigan Central, and Detroit and Toledo Shore Lines. Doris was born at Toledo
in July, 1917. During the 1918 'flu none of us were ill, but we did lose friends and acquaintances. The following year we returned to Canada and bought a rooming house at 10128 - 101 Street, in Edmonton. That piece of property would be extremely valuable now. Winifred was born in February, 1920, at the Royal Alex Hospital.
During our first stay in Canada we had met the Ketchum family. It was to Kenneth that we traded our rooming house for his quarter of land, which we later sold. After living for a while on the Bietsch (Sam Boucher) place, we paid $1200 to Mark Taylor for S.W. 31-56-3-W4 at Frog Lake. The spring of 1920 we bought a team from Leonard Heins, and travelled from Bishopp's on the Heins place, to our farm. At that time there were forty acres broken.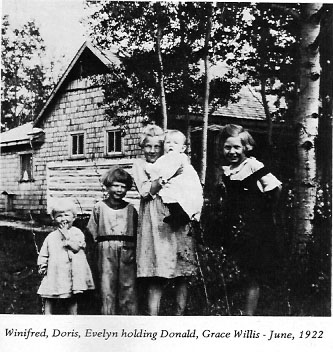 Our last child, Donald, was born at home in November, 1921. In the years that followed, the rest of the quarter was broken, as well as the fraction next to the Reserve. In the spring of 1923, I took over the Heinsburg ferry, which I operated until the fall of 1925. Through the years Cuba had a large garden, and I supplied a great deal of wild meat and fish. We shipped cream, sold eggs, and at one time raised many hogs. During the war we also raised mink.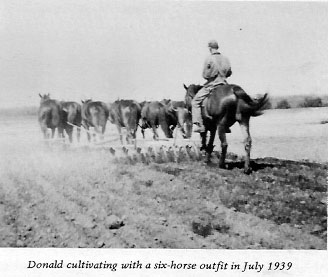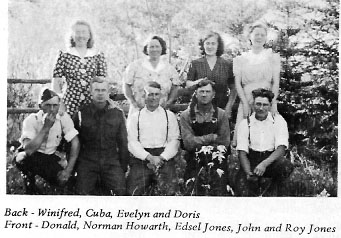 Donald had purchased the fraction east of Howard Taylor's, a fraction from Martin Rietan, and a quarter from McMartin, south of Jamison. In April of 1952 we sold the land and machinery to him, and moved into Heinsburg, where I again operated the ferry. At this time there was 24- hour service, with Bill Crook and Walter Sawak also on duty. I left this work in 1959 at the age of 70. Upon my second retirement we continued to reside in Heinsburg on "Riverside Drive." Our sale was held in July, 1967, and two months later our daughter, Evelyn (Mrs. Edsel Jones) died of lung cancer at Prince George, B.C. She left her husband and four children, all married. We moved to Pioneer Lodge, in Lloydminster. In April of 1970 we moved to Vermilion Valley Lodge, where I still reside.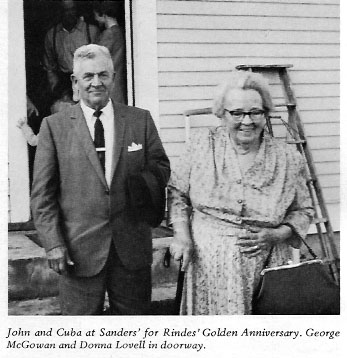 Cuba's health was not good, and several times she had to spend weeks in the hospital. She entered Vermilion Hospital on January 7, 1974, and two weeks later we celebrated our 63rd wedding anniversary quietly there, with our family and two old friends. Her health failed steadily, and on March 4th she passed away at age 85. Failing eyesight had caused her to give up reading, knitting, crocheting, and many other activities. Visits from friends and relatives meant much to her, and many people were recognized by their voices, much to their surprise.
Donald is still on the home place, having purchased the Harry Bowtell and Fred Bowtell farms and the old Kjenner place north of Laurier Lake. In 1952 he married Lois Maxwell. They have, one girl, and three boys to carry on the Nichols name. Doris married Roy Jones, raised four children, and in 1974 left the farm and bought a house in Vermilion. A fire in their basement in early 1975 caused mostly smoke damage, but means a great deal of work has to be done. Roy is employed with EMD Construction, in which his brother, Neal, is a partner. Winifred married Norman Howarth. They farmed at Halcourt, near Beaverlodge, then in 1956 Norman took over the Heinsburg Post Office. He passed away in 1967. She is still postmistress (or post person) in town. Their daughter, Gail, lives at Forest- burg.
I have thirteen grandchildren, and, at last count, sixteen great grandchildren in Alberta and B.C. I am the only one of Amos Nichols' children living in 1975. Fishing has become somehwat more difficult, but most summers I have gone out at least once, especially with the nephews from Ohio. At present I share a room with Tony Swan, whose son, Charlie, is married to Joyce Blacklock. We lead a very quiet life here in Vermilion.
Editor's Note: The Nichols house in Heinsburg burned to the ground in April 1976, taking the life of Luther William Stewart, formerly of Landonville.