MEMOIRS OF THE SMITH CLAN
by Bob Smith
My parents, Mr. and Mrs. William Smith, and family came into the Heinsburg area in the fall of 1932. Mom and Dad were both teachers. They had four children: Dan, Bob, Gwen and Bill. Dad applied for and obtained the teaching position for Martin School, which used to be located just across the road from where we live now. At that time the children from the town of Heinsburg walked up over the hills to Martin School. They had had a horse van the previous year or two to bring them to school. However, after Christmas, school was held in the Heinsburg hall for the town children. Dad taught school at Martin for two years.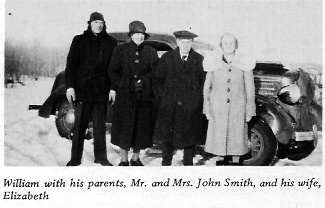 In 1934 we purchased the north half of Section 25-554-4 from the C.P.R. The land was situated just across the road from the old school site. Also in the summer of 1934 the Martin School was moved to the south-east quarter of Section 1-56-4-4, where the Martin Club House is today. We moved on the farm in the fall of 1934, and Dad kept teaching at different districts in the area. About 1944 he quit teaching and farmed. Mom then started teaching and continued until she died on May 5, 1954. That fall Dad went back teaching, leaving the farming to me. I have never left the farm. On June 28, 1949 Hilda Nelson and I were married. We lived on the south-east quarter of 25-554-4 until my mother died. Then we moved to the brick house and are still there.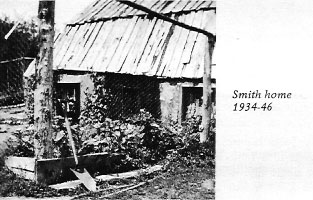 A little history of my parents and grandparents: Dad and his brother, Jack, were born in Devonshire, England. Grandfather was a foreman on a dairy farm. They emigrated to Canada in the spring of 1907, homesteading near Outlook, Saskatchewan, where Uncle Jack's descendants still live. Mom was also born in Devonshire, England. She was brought up on a farm which her parents and brothers rented. Her father died when she was quite young; however her three brothers, one sister, and mother operated the farm quite successfully. When my grandmother Wooldridge died, my mother and her sister, Eunice, came to Canada to stay with their uncle, Emmanuel Wooldridge, who ranched near Dundurn, Saskatchewan. My cousins and their father still live in and around Dundurn. Uncle still lives on the old ranch.
Mother went back to school in Dundurn, then to Saskatoon to become a teacher. She taught for a year or two around Dundurn, then she went to teach at the church school at the Old Battleford Academy. That is where she met Dad, who had decided to go back to school, also. They were married at the Academy. They went back to the homestead and tried farming again. After two or three years Dad decided to go in for education and went back to school, this time at Lacombe and Normal School in Cam- rose. Mom did teach some while Dad was in school. Dad's first school was at Beacon, not far from Beacon Corner, where Highway 28 meets Highway 41. We were there for just one year, then moved to a school five and a half miles south-east of Myrnam in 1925. We were there for four years. In 1929 we moved again to the New Beauvallon two- room school. Mom and Dad both taught there for awhile. We stayed there until we moved to Heinsburg in 1932.
My grandparents retired and moved to Pitt Meadows, B.C. They both came to live with us in the '40s and are both buried in the Frog Lake Cemetery. Dad spent his retirement years in Victoria, B.C., coming home in the summers to spend some time at his cabin at Lake Whitney, swimming and visiting family and friends. He died in 1973.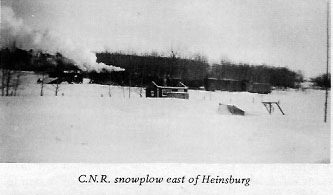 One experience of mine stands out in my memory. I was intrigued by the pretty girls that Chris Nelson had. One weekend, when I had driven the team and cutter to Nelson's, we had a real storm. The roads were drifted badly, even hard for horses to break through. About midnight I started home. The road wasn't too bad in the valleys. When I got to the Salt Plant crossing I got the brainwave to drive down the railroad and try to miss most of the drifts. I knew the train shouldn't leave Heinsburg until 7:00 a.m. Things were going along pretty well - then the horses stopped and pushed against each other. I'd forgotten about the railway trestle over Middle Creek coulee. I got out and led the ponies over the trestle, which had at least a thirty-foot drop on each side. Having a scare like that I was wide awake (I used to doze off occasionally). I had travelled no more than five minutes when I heard a whistle and saw a bright light coming straight at me.. Somehow, yelling and coaxing, I got the horses to plunge off the track into four-foot-deep snow. (Angels, perhaps.) I learned later that the train was a special snowplow train that just turned around at Heinsburg and headed back to Edmonton at 2:00 a.m.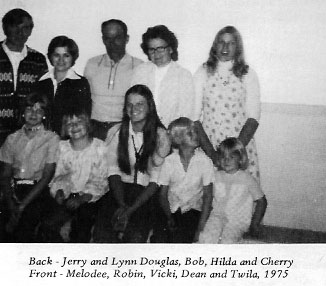 We have seven children. Lynn is now married to Jerry Douglas, and they live in Vermilion. Jerry drives a tractor truck and Lynn is working for the Alberta Agriculture Department. Cherry, Vicki, Melodee, Robin, Dean and Twila are still at home, all going to school except Twila. In the fall of 1964 I was elected to the County Council; I'm still there. This service has its rewards and its pressures. It seems to be getting more demanding in time and efforts, due, I suppose, to more involvement of the Local Government in all the new programs, and an increase in authority given to it. We are also farming and ranching. A couple of years ago Bill bought the Horton ranch, which we will also be operating. We are happy to have Amy Ann and Dave Bullock to help us with the ranch and to have them in our community. She is my niece, and Dave comes from the Lethbridge area. They have two young daughters, Nickina and Penny.