BENJAMIN F. WOMACKS
(son of Elmer E. Womacks, known as Ned by those who knew him)
I was fourth of a family of eight. We first moved to the Frog Lake district in 1923 (I believe) as set forth elsewhere in this book, and remained nearly a year at that time on land purchased by my father. My memory of that time, at which I was about seven years old, is not one of hardship, but requirements were not large and money scarcely existed. However there were plenty of rabbits, saskatoons which were good dried, prairie chickens, also some deer. Rabbit skins dried were excellent for warmth and were also saleable, I believe about five cents a skin. Wood was plentiful also. In that particular summer we had an excellent garden. It was usual to haul some wheat to Vermilion for gristing and for sale to purchase some of winter's requirements. Also a saleable item was seneca root and it was through this that my older brothers were able to purchase a new twenty-two for just over eight dollars - a memorable purchase and rabbits beware. Also in that year Dad had his foot caught in a stirrup, and broken, and later was hospitalized with rheumatism.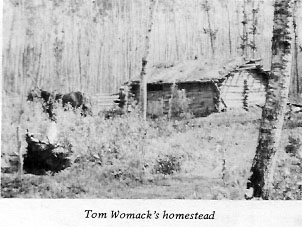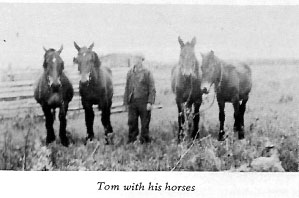 A particular hazard of the times was bush fires and fighting them was a community project as bush was usually up close to the buildings. I can remember drenching our barn roof on one occasion as the fire swept close. Fortunately school was only operated during the summer months so the necessity of clothes etc. for children during the winter was small.
In about 1924, upon my grandfather's death, we returned to Gwynne where my father cared for his dad's estate for about twelve years until my grandmother also died. Then a year spent west of Edmonton in the MacLeod Valley near Edson. The depression was really on then. Dad was getting older so the only place left was the old farm here at Frog Lake although it had been taken into the district of Heinsburg. We had added to our family; two Ketchum girls, (Marjorie and Shirley) cousins of mine and daughters of Kenneth Ketchum of Greenlawn who had drowned there. My folks cared for the girls until they became older and both later married.
In our absence Tom Womacks, my father's brother, stayed at the place here. Tom was a bachelor and well known in the neighborhood for his training of horses which could have been called a hobby. He trained them to do tricks as well as to be obedient to the reins. Like most old
time bachelors Uncle Tom could have been called eccentric. He had farmed with my father at Gwynne earlier where they had homesteads. I know that, to my dad's considerable exasperation, should any one horse on Tom's outfit misbehave, even slightly, Tom would spend the balance of that day, or whatever time he deemed necessary, correcting that misbehavior to his satisfaction and the plowing, or whatever, became of secondary importance. When Heinsburg became more established Tom wa.; engaged to transport the children from Heinsburg to Martin School in a horse drawn vehicle or van for a period of time. During the second world war Tom took sick, was hospitalized and died. I was overseas at the time but I understand he was buried on a very severe winter day in the Frog Lake cemetery and naturally the body had to be transported by bob sleigh.
We came back here with horses, household goods and a small amount of horse drawn machinery. The times were hard but many more new arrivals were here especially from the south, driven out by drought, dust-storms and depressed grain markets. Most people were more or less on an equal basis financially and neighboring was a way of life especially in winter when huge piles of wood were sawed and used in all the homes. Of course Heinsburg had grown from a ferry crossing to a village with stores, Post Office, railway station, etc. and cars had become more of a method of transportation. In winter many of the roads were plugged and detours were necessary even for horses.
For a time when we arrived here my dad was depressed and left us boys to do more or less as we pleased after we had built still another log house. My brother Bob and sister Lucille had married and stayed behind. Art and Bill left for work returning only periodically while I stayed home and handled the work to-gether with Lyle's, Alvin's and Dad's help. Breaking with horses, some seventy acres, in the course of three or four years, was a very slow job. The horses were grass fed, with only a little oats and hay at noon, then turned out onto the range at night; then a ride to round them up early in the morning before they strayed too far. But I was young and every furrow turned looked good to me and I suppose was the only progress made in those trying times. I wasn't alone; anytime I could stop and listen I could hear Archie Dewey, Elmer Rushfeldt or Harold Franks urging their horses on for a little better effort and I suppose vice versa.
Then came the war; brother Lyle was caught in the early draft and when about a year later I learned he was to be sent overseas I decided to enlist. Later brother Bill, who by this time was married, went also. I enlisted in 1942, spent part of a year training in Canada, part of a year in England, then a winter in North Africa, then to action in Italy with the 7th Anti-tank Regiment Royal Canadian Artillery. From there a short stay in Belgium and back to action in Holland. We were transferred to the 13th Field Regiment R.C.A. and prepared to leave for home on the Queen Elizabeth, arriving back in Canada in late December or early January 1946. Among the local people I met overseas were Billy Dewey and Francis Gray. Lyle and Evelyn both married soon after the war and Alvin had married before we returned, and he and Peggy were living with Mother and Dad on the farm. Alvin played in the local orchestra with Harry Jenner and Chester Botting at this time. After a couple of years they left for Trail, B.C. and worked there while I took over the farming. Mother and Dad left to live with brother Bob at Millet, Alberta, and later they went to live with Alvin at Red Deer where they lived out the rest of their lives.
In the meantime I worked out and farmed the home place. I worked away from Heinsburg for a couple of winters and made enough to purchase the Blakely place, formerly owned by Jim Rainboth. I then met and married Edith Dumont of Onion Lake, who was attending school at Heinsburg and boarding at Harry Jenner's. We made our home here on the old place and are still farming at the time of writing this. Six children were born to us, namely - Dale, now aged twenty-one, who is presently completing fourth year of university training in mechanical engineering. Allan, aged nineteen, presently apprenticing tinsmithing in Lloydminster where he also plays goal for the Lloydminster Junior B. Blazers hockey team. Attending school at Heinsburg are Teresa, taking Grade XII, Kenneth, sixteen, Grade XI, Roger, fourteen, Grade IX, and at home is four year old Sandra.