MEMORABILIA, THE CHARTIER FAMILY
by Agnes (Chartier) Kuziw
Mr. Romulus Chartier was born in L'Annunciation, Canada in the year of our Lord 1888. He attended college, majoring in English. He was married to Miss Bertha Boileau in the year 1910 and set out to seek his fortune in the West in the hotel business. He and his wife arrived in Bonnyville, Alberta on a Colonist train in the year 1916, bringing the first trotting horses to this district. He operated the first trading post and post office with supplies brought in from the east to the rural point nearby named Frasnoy. At the same time they operated a similar post at Fort Kent, Alberta, located in the St. Joseph parish. He freighted his supplies to these points with horses and oxen over the Indian trails as there were no roads. Mr. Chartier also operated a cattle ranch of about 200 head, as well as handling the largest fur trade in the district. Later he established a trading post in Cold Lake, Alberta.
It was in the cool early spring of the year 1925 that Mr. and Mrs. Chartier proceeded to move to a new destination in a wilderness (except for a ferry shack). They moved with their ten children (Robert senior had passed away in Fort Kent) in two covered wagons. Our first stop was on the Reserve. Our second stop was more fortunate as we arrived at Frog Lake and stopped overnight at Mr. and Mrs. Granger's after a tiresome, cold journey from Cold Lake.
We appreciated the warm stopover at the friendly Granger's. I can distinctly remember Mother purchasing 40 dozen eggs at 3¢ a dozen. The following day we arrived at our destination, Heinsburg, overlooking the beautiful North Saskatchewan River. Two weeks prior to our arrival our father had moved a granary (10' x 12' ) next to the ferry shack. Dad, the boys, and Ole Johnson, the ferryman, (by now almost a member of the family) began to construct two bunks of three beds each, and they put a cookstove in, as the nights were cool and damp.
Altogether it was a long, lonely experience. That year Father hurried to get his lot so he could get started building. Everyone that could help sure "pitched in." Mother was kept very busy taking care of our schooling, the cooking, and the daily chores without the facilities of gas or electricity. Fortunately we were well supplied with running water from the Saskatchewan River, which was about 100 feet away. Next Father got help from a few Indians which came in very useful: hauling lumber, and starting to build before the end of the year. He had put up a shelter consisting of a store, six bedrooms, and living quarters (where the curling arena is now situated).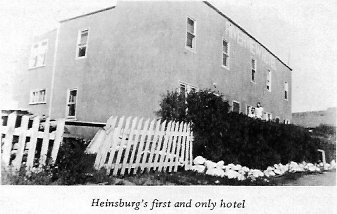 The following spring a few men came to town planning to continue the railway from Elk Point to 1 1/2 miles east of Heinsburg. It was great to get back to civilization once more and see new faces. They sure looked nice to us. Mother would feed the men and they would sleep in tents until the shelter was adequate to live in. In the spring of 1928 they laid the rails. They had their own cooking cars, which made it easier for Mother, but she still had lots of crews to cater to, as next to come were the elevator men. Clifford Fuller moved an old shack onto the river bank for a store and had his living quarters upstairs. The river:rose very high that year and Father, being very afraid of the river overflowing, proceeded to move the store to higher ground, about 1/4 mile from the river bank, up more into the hills.
I'll never forget when Mother and Father packed all the children in blankets to sleep in the wilderness hills when the river was so high. With its roaring noise, and rising by the minute, we often saw old houses, dead horses, pigs, etc. swept past. I'll never forget one such object; it was a small barn with a cow in it (alive, at that) and its head was sticking out from the barn door. The men tried to rescue it but the current was so swift, muddy, and filled with roots and trees, etc. that their efforts were to no avail. I hope no one ever has to experience those days again. Mother said, "Thank God, we finally moved to the hills."
We were now acquainted with really nice people: the Deweys, Raineys, and George Bosvik, just to mention a few. We had many enjoyable softball games, and in winter we would use cardboard boxes to slide down the hills. We would build a bonfire and eat our frozen bread with peanut butter or jam on it. Mr. and Mrs. Evans moved in with a nice big family. None of us had too much but we had in common a spirit of helpfulness and love for one another. We had great times together, often without a penny between us. We were fortunate that once a month the good old Oblate Missionary Father would come from Onion Lake to say Mass at Fishing Lake, Clearwater Lake, and Heins- burg. Services were held in the hotel dining room until the congregation got too large. Consequently the Edmonton Bishop sent Father McLean, a good pioneer priest and a very good carpenter, to build a little church on the hill. Mr. Iveny's sons, Sikoras, Evans, and the Chartier clan, girls and boys, would all help. I didn't do too much except hold the boards so that the boys could nail them. Hammers, by the way, were not too plentiful. The little church was named St. Joseph's Parish and was completed in 1934.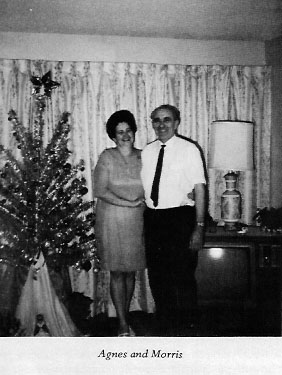 Morris and I were married on February 22, 1938. I was the only Chartier girl married in Heinsburg. We both took a great interest in the Heinsburg community as it was my "homeland." In 1943 we moved a few miles south but still attended all the usual functions in the Heinsburg community. We don't care to remember the date June 6, 1956, as that was the day of our farm sale, with auctioneer Barney Edwards. This step was taken so I could follow the example of my dad and go into the hotel business. We bought the hotel in Champion in June 1956 and operated it until March 1959; owned and operated the Beiseker Hotel until 1963; operated the King Edward Hotel in Strathmore until 1969; and presently own and operate an apartment building in Calgary — in our "retirement years." We often talk about the good old days, the good times we all had, and also the lovely people we met during our lifetime.
Mr. and Mrs. Chartier had 12 children, 31 grandchildren, and 30 great-grandchildren. One son, Ray (Rene), studied in Heinsburg, went to Yellowknife to make a few dollars, and then returned to Heinsburg and took up flying. He was an excellent bush pilot and still owns a four-passenger plane in which he flies back home to see the clan at about two-year intervals. He married Victoria Klenoskie in the year 1920, and he had a family of three children. The large photograph was taken after their youngest son Raymond's body was returned to Richmond, Virginia from Vietnam for burial. He was in the U.S. army for a period of two years. He was sent to Vietnam on September 12th, 1969 and died in action the following November 20th. Ray and Victoria have four grandchildren.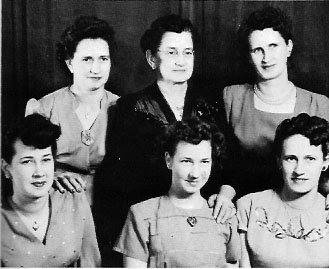 Back: Agnes (Kuziw), Mrs. Chartier, Marguerite (Hockin)
Front: Theresa (Gale), Jeanne (Touchette), Cicile (Engen)
When the store was moved up on the hill all the family pitched in. It was hard work, but we had additional help from George Bosvik and Mr. William Daniels, a very good Metis carpenter from Frog Lake. We nicknamed Mr. Daniels "Mewasin le Marteau." Mewasin means "good" in Cree and Marteau means "hammer" in French. We were now a thriving community. After the shelter and the store were built the next building was a twelve-room hotel. Everyone took an active part in helping to develop the village in which Mr. and Mrs. Chartier lived for 18 years. The hotel was named Riverview Hotel, which they had licensed from January 1st to 1944. There was never a dull moment. A sad occasion was the death of a daughter, Robertine, in Heinsburg in the year 1937.
Mr. and Mrs. Chartier sold the hotel in 1945 to Mr. Bartoshek. It was destroyed by fire on February 26th, 1959. At the time of the fire the hotel was owned by Mr. and Mrs. Paul Buck. After two years of retirement in Victoria, B.C. Mr. and Mrs. Chartier returned to Alberta, going back into the hotel business. They and their sons have owned hotels and operated them in Hythe, The Pas, Alix, Camrose, Edgerton, Veteran, Strome, and Picture Butte. The family appreciated the great courage of their father and grandfather, and some followed in his footsteps. Morris and I owned and operated hotels in Champion, Beiseker and Strathmore. Our son Bob joined us in the Strathmore Hotel. Daughter Leona, who married Peter Trach, owns and operates a hotel in Standard. Our second daughter, Theresa, is very busy teaching music and her husband is manager of Vulcan Machinery Co. in Calgary. Marcel Chartier owns and operates a hotel in Manitoba.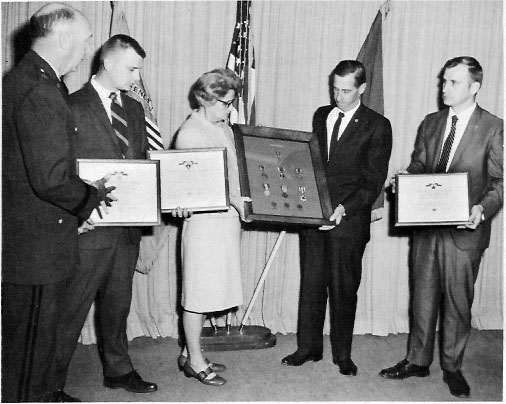 The picture on the following page shows the posthumous award to Raymond being presented to Rene, Victoria and family.
Oldest son, Jackie, on the right; second son, Dennis, second from left. On the extreme left is the U.S. Army General who made the presentation.
Photo credit: Defence General Supply Centre, Richmond, Virginia.