MABEL DUMONT'S STORY
The first time I remember visiting Frog Lake was in about 1918. I hadn't started school yet. We were living at Wellsdale, later changed to Clandonald. We drove to Frog Lake with a team and buggy. It surely seemed to take a long time to get there. I stayed with my sister, Grace Franks for a while. I can remember coming home from a dance, party or such. We had to cross the creek through the water. We were in a lumber wagon, and just as one wheel decided to go over a huge rock one horse decided he needed a drink. Bump! the spring seat hit the bottom only to spring up again, and in the water I went head first, with Frank landing on top of me. I still have a scar on my leg where I hit a rock. I don't remember visiting Frog Lake again until I was about twelve years old. In the meantime we had moved to Edmonton. From that time on each summer holiday I spent with Grace and Frank.
Finally in 1931 I finished my teacher training and moved to Frog Lake. I taught a few terms at Acomb School, then situated about 6 miles east of the Frank Franks farm; at Fishing Lake Colony School; Greenvale School; and I substituted for a time at the Frog Lake Reserve School, while Alex Peterson, the teacher, was campaigning during the Social Credit election campaign. When not teaching I stayed with Grace and Frank. For someone raised in the city this was heaven. Everyone was so friendly; there were lots of young people, lots of dances and parties. I don't think a weekend passed by but what we either went visiting or a group of young folk would be at our place. Never a dull moment; life was hectic.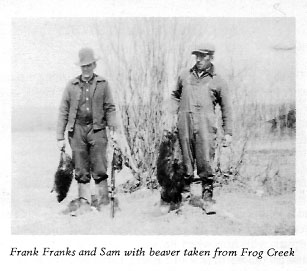 One day Frank sent me to get some men to come to work. Just as I was riding down a little path through the bushes, wondering if I was lost, my horse stopped and there was another rider coming to meet me. I asked him the way to the certain house, but little did I know then that this was to be my future husband. It was a few years later that we met again. We were married in 1943. We lived on the Dumont homestead at Acomb for a short time, then moved to the Arnold place, which then belonged to my brother, George Kinch. Sam was working alternately for George and Frank at the time.
We just had one child, Tom, and the nearest doctor was at Elk Point. One morning when Sam was going to work, for no reason at all I decided I would go to visit Jean, George's wife. So Torn and I went with him, but I didn't return home for ten days. Before Sam came back to pick us up, our little girl Vivian was born, prematurely. Such was life. The twins, Grace and Jean, also Victor, were born while we lived there. We then moved back to the homestead where we stayed until after the kids started school, Audrey, Isabel and Gabe were born here.
By this time Acomb School site had been moved to just east of the south end of Clearwater Lake. This was our school district. Our children had to walk three miles through Hines' cattle lease to school. The consequence, a daily chore: take kids to and from school; no one could expect little kids to walk through herds of range cows and bulls. Finally we got permission for the bus to pick our kids up and take them to Heinsburg school, but this was too good to be true. Before long they informed us we were not in the district so the bus could not pick our kids up. This led to our buying a farm at Spring Park so that we could send our kids to Elk Point. We lived in Spring Park until Sam died in 1962. I then moved to Elk Point where I had been teaching for three years. Tom died, after an accident on the oil rigs, in 1964. With the exception of Gabe, the others are all married. I am still teaching in Elk Point.