THE BILL PRICE FAMILY
by his son, Joe
Dad was born October 4, 1880. Besides his brothers Harry and Herb he had a brother Joe Jr., and a sister Alice. When he was four the family moved to Battleford. (See "Sergeant Joe Price and Family" in Chapter I). His father became farm instructor and his mother taught school. The children attended school with Indian students, so all spoke fluent Cree. When the family moved into Duck Lake my grandfather operated a livery barn, dray business and dance hall. During the last few years of his life the running of that business was left to Dad.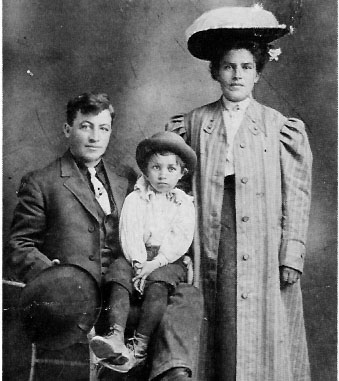 Bill, Joe and Alice
My mother, Alice Taylor (an aunt to Mrs. Albert Nelson), was raised on the South Saskatchewan River near Fenton, Saskatchewan, just south of the Red Pheasant Reserve. The Taylors had land adjoining the reserve. Mother and Dad were married when both were seventeen. Dad took out a homestead east of Birch Hills, which he later sold, and built a house in Brancepeth (1904). He worked at carpentry and farmed land he rented south of the town. The house burned while Grandmother Price was with them, and they lost all their possessions. George, Emily, Zadie and I were all born in Saskatchewan.
A year or so before World War I we moved to Wattsford, about twenty-five miles from Vegreville, where my uncle Bob Taylor, lived. Dad worked for Tom Watt on his ranch for a few years then, with some horses and cattle, started up on his own in the Two Hills area. For four or five years he rented three quarters from Dick Fife at Warwick, then from Dr. Monkman, a Vegreville dentist, for three years.
My three brothers, Harvey, Colin and Ed, died in the 1918 'flu. We lost them all within a few weeks, two at home and the other in hospital. I was very ill, and in my delirium I jumped out of a car on the way to the hospital where my brother died during my recovery. I was extremely weak for a long time. It took me two years to recover, and I never grew any taller that I was then (age 14).
After taking a loss on cattle, Dad sold out; and after paying his debts, had twenty-five horses and two wagons left. In the spring of 1922 he helped Arthur Kennedy move cattle from Hairy Hill to Fishing Lake. That summer he put up hay for Felix Berlinguette's father, and in the fall my mother, Zadie and I moved to Fishing Lake. George and Emily were at Wattsford, but two years later they, too, moved to Fishing Lake. Zadie married her second husband, Sandy Parenteau, from the Onion Lake area, while we were there.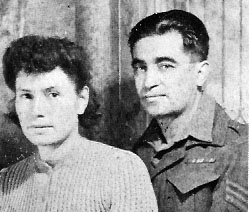 Victoria and Joe 1946
Dad went to Spirit River, Alberta to homestead in 1928 or 1929. I had married Victoria Collins, a St. Paul girl, in 1926, and Mother remained with us. She later went to Marwayne to care for Mrs. Charlie Bendixen and was at their home until she entered Blunt's Nursing Home in St. Paul about eleven years ago. She passed away there on June 12, 1976, the morning after her ninety-sixth birthday.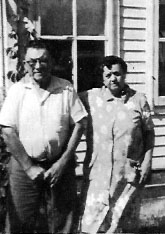 Bill and Emily 1960s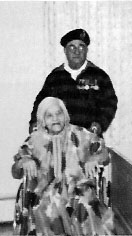 Joe and his mother 1974
For a few years Dad lived on his homestead, then came to Elk Point. He went out cooking at a lumber and tie camp at Edson until pension age, when he returned to Elk Point. He later spent a winter at Vermilion and three years at Mannville. When he entered Vialta Lodge at Viking he had already been ill for a year with cancer, and he was in and out of hospital. He then was transferred to the nursing home at St. Paul, but because he became too ill he was taken to the Elk Point Hospital. He was only there a short time when he died at the age of ninety-one. He usually weighed around two hundred pounds, but when he passed away he weighed less than a hundred.
George, who married George Brown's sister, died about ten years ago at the age of sixty-eight. He was a cook and had lived many places. His son, Bud, was killed in the war. Eleanor (Sissy) lives in Revelstoke, B.C., and Leonard is at Hamilton, Ontario. Emily married George Brown, who lived for a while at Fishing Lake, then Moose Mountain, and later at Dawson Creek, where Emily presently lives. George died during World War II, leaving a family of three boys and two girls.
Zadie, the youngest of our family, lives six miles out of Marwayne. One son was shot in Manitoba in a hunting accident, and one daughter is deceased. Three boys remain, two of whom married daughters of Floyd Nelson of Whitney Lake.
I was born January 13, 1904 at Prince Albert. Before my marriage I had worked around Streamstown and had accumulated some cattle. On the day that I married Victoria, Zadie accompanied us to the Onion Lake Day School for the ceremony. When two tires blew on the car, I had no spares, and I couldn't get any, so Clarence Vaness had to bring us home. I was in Fishing Lake for a while, then at Fenton, Saskatchewan.
While at Fishing Lake I worked for Ernie Vasey, played hockey for Frog Lake, acted as guide for Drs. Miller and Ross, and helped winter cattle for Harry Bowtell. After leaving the area I worked on the highway at La Ronge. In the fall of 1939 I joined the Army, and the next spring was sent overseas for five years. I was in the British Isles, went to France in the D-Day landing, and wintered at a Rhine River crossing. In the spring of 1945 I was wounded about the mouth and head, suffering a hearing loss. That same year I was discharged.
During the following years I was at Elk Point; worked for Mannix Construction at Coal. Branch; rented a farm at Armistice, west of Elk Point, for about ten years; and worked for the Municipality, Frank Keitges, etc. Later I went out to Vancouver Island, but the climate there was unfavorable as far as I was concerned. I left, but Victoria remained there with the boys. I was then with the Department of Highways at Edson for four years. At present I am living on the two hundred acres I purchased near Long Lake, on Highway 28 to Bonnyville. Our family includes five boys and five girls. All of them are in B.C. except the oldest girl, who lives at Yellowknife, N.W.T.