EDWARD AND NELLIE RUSHFELDT
by Muriel (Rushfeldt) Holthe
Edward Irving Rushfeldt was born in 1887 at Grand Harbor, North Dakota, near Devil's Lake. He lived there on a farm with his family until the age of twenty-one. In the year 1909, with limited opportunities for a large family of boys to own land in North Dakota, John Arndt Rushfeldt, Dad's father, turned his eyes toward Canada. It was the promised land, a virtual Utopia. Dad and his sister, Bertha, accompanied their father to Vulcan, Alberta, where John was able to purchase good land. He stayed for two years in that area, helping the family get settled and get the farm established. The land grab was on, and in order to homestead, it was necessary to make a trip with team and wagon over a distance of eighty miles, via Brooks, to a location eighteen miles south and five miles west of Youngstown. Dad made the required improvements and thereby "proved up" on the homestead. The first land breaking was done wih a team of horses and a walking plow.
Dad married my mother, Nellie Lammedee, in 1918. She was also born at Grand Harbor, N.D., and had migrated to Saskatchewan in 1905. While at Youngstown in 1917, visiting her grandparents, she met Dad, and romance flourished.
Rainfall is unpredictable in that part of Alberta. Once in a while there would be a good crop, and then a series of poor ones, if there was anything at all. 1931 was the most adverse year of all. Crops blew out, wells went dry, there was no pasture, and to top it all, Lexington School, where the three Rushfeldts attended, was being phased out! There was no choice left. It was "move", so in June Dad and two of his neighbors drove north, scouting for land once again. At Heinsburg he found a suitable spot to make a new start, on the N.W. 35-55-4-W4, which he purchased from the British Dominion Land Company.
On August 11 my parents and we five children, and a truckload of household furnishings arrived at George Dewey's home. The I)eweys were former friends, who had also lived in the Youngstown area at an earlier date. They extended their ever-wonderful hospitality to the crowd until a shell of a house was erected on the new farm. Carloads of horses, cattle, machinery, and other chattels were shipped by rail to Heinsburg.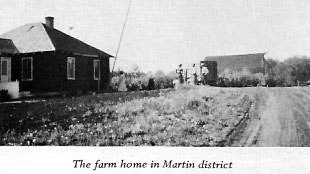 It is best to minimize the miseries of those depression years and the struggle that ensued to clear and break up bush land with horses. Dad was not a quitter and the land yielded to the breaking plow. Crops were good and, in spite of the ridiculously low market price for grain, there was satisfaction in growing it after the futile attempts on the prairie. It was group effort all the way in our family. A large herd of milk cows were kept in production for that ever-important cream cheque. At that time there was open range, and the chore of finding the cows each night was by no means a small one. Hogs were produced in increasing numbers as the years progressed. Chickens abounded for meat purposes, as well as eggs. Cholesterol was unheard of then. Many farm families would have starved to death had eggs been forbidden. A huge garden and potato patch provided a year-round supply of vegetables. The woods gave forth an abundant supply of wild fruit; raspberries, saskatoons, and blueberries. Everyone gathered, like squirrels preparing for winter.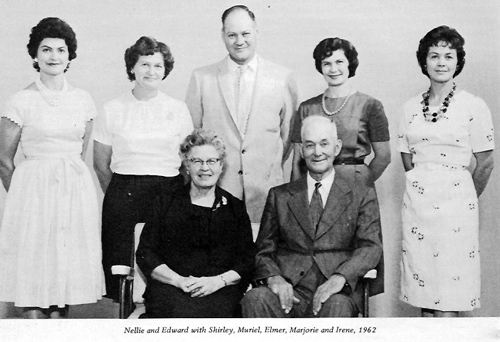 Gradually improvements were made. More land was added until, in all, there were three quarters. There were many happy, memorable occasions. All were poor from a monetary viewpoint, but rich in fellowship. There was a sense of caring for one's neighbor, and of sharing time and talents. Remember those inspiring sermons delivered by student ministers during the summer months beside beautiful Ross Lake? Also the mischievous boys who would stealthily put ants down the girls' necks during prayers? Then there was the delight of bathing in the refreshing, crystal water of the lake. About four dips a Sunday was average. Gourmet picnic dinners, shared after church, were comprised of whatever was homegrown and readily available, like potato salad, jars of radishes, cottage cheese and onions, canned beef, devilled eggs, fried chicken, fragrant homemade bread and buns, and luscious rhubarb or saskatoon pie.
Then there were the wiener roasts and corn boils. We didn't count calories then. There were ball games and picnics on "7". The highlights of the winter season were the local Christmas concerts. Then, too, there were Sunday skating parties on Bill Frank's Lake, when the ice was as smooth and glossy as a mirror. We learned to dance in the Frog Lake Community Hall. Many, I'm sure, share fond memories of gala events held there. It was indeed a hospitable and sociable centre, for young and old alike. Gerald Lawrence's orchestra provided good music for many years.
Time marches on, families grow up and go their separate ways. In the late thirties Elmer was employed as an elevator agent at Myrnam, Two Hills and Ranfurly. He enlisted as a radio mechanic in the R.C.A.F. in 1942, serving four years. He married Lillian Porter from Two Hills. They took up residence in Edgerton where Elmer was employed by the U.G.G. Elevator Company. Two years later Eric Thorne and Elmer bought the Hart Hotel in Pouce Coupê, B.C. That business prospered but neither Eric nor Elmer were happy with the environment. By this time farming looked good to Elmer, so he purchased land at Bonanza, Alberta, in a new block of land in the Peace River area that had just opened up for settlement.
Elmer and Lillian continued to live in Pouce Coupê. Their four children, Gale, Brian, Wendy, and. Beverly, attended school at Dawson Creek. Elmer now grows grain and grass seed. He commutes the forty-two miles to his farm, where he lives in a bunkhouse during the busy seasons. Last year he built a cedar log Lyndal home on the farm. In the near future the "Ponderosa" will be home to Elmer, Lillian, and Bev. Irene became a graduate nurse, and early in her career married Derald Miller, who was an industrial arts teacher at Raymond. They have lived there except for two years spent at Corvellis, when Derald obtained his Masters degree. They have five children: Janice, Bob, Cameron, Sharon and Kevin. Irene has nursed for years, and still continues working part-time, as well as being a very devoted mother and wife, and a valuable worker in church and community affairs.
Shirley trained at the Royal Alexandra Hospital in Edmonton. Early in her nursing career she met and married Pat Walker of Vulcan. They farm in that area on an extensive scale, and have prospered. They have four children: Pamela, Patricia, Joanne, and Bradley. Over the years Shirley has continued to nurse at the Vulcan Hospital, and to serve as acting matron at Blunt's Nursing Home when services were needed and help scarce. The Walker children pitch in to make things happen on the farm. They can service and operate all the machinery; they are excellent riders and own beautiful horses. During harvest they work around the clock to complete combining. Marjorie, the youngest member of our family, graduated from Camrose Lutheran College and then attended the University of Alberta for one year in Education. She taught at North Park one year, at Heinsburg for two years, and later at Red Deer. She returned to U of A to obtain a degree in Household Economics, and has taught several years in Edmonton since then. In 1958 she married Bill Kuziw (son of Dan and Jessie) of Edmonton. He works for the C.B.C. They have three children: Todd, Rosalind, and Geoffry.
I married Sid Holthe of Elk Point in 1941. At that time he was secretary of Lincoln M.D., and we lived briefly at Lindbergh. In 1942, Sid joined the K.O.R.C.'s, an infantry regiment in the Army, for a four-year stint. After Sid had taught for part of a year at Shamrock Valley School we bought a farm in the Elk Point area, where we farmed for twenty years. In 1957, Sid returned to teaching at Elk Point High School where he is now employed as principal. We continued to live on the farm until 1966, when we moved to Elk Point. Since then we have rented out the land and become town-oriented — not any easy switch after living so long on the farm. We have five children: Edward of Calgary, Alan of St. Paul, Elaine of Saskatoon, Dennis of Elk Point, and Eric who is still at home.
My parents lived for twenty-six years on the farm in the Heinsburg-Martin district. When retirement age arrived they sold the land to Donald Kjenner and Merle George, and held an auction sale. They bought a house in Elk Point in October 1957. They enjoyed five years of well-earned retirement, until Dad passed away in 1962 of a heart attack. My mother is still living in Elk Point, busy as usual, sewing and quilting for the Red Cross. She gardens, and enjoys teas and birthday parties with her many friends. The newly organized Pioneer Circle provides many pleasant afternoons for her. She still travels about, visiting her children and numerous relatives. She still has a genuine zest for living!