MEMORIES OF FAIRSEAT FARM, HOME OF WILLIAM AND ANNIE FRANKS
- by Doris (Franks) Pynten
In 1907 William Franks decided to emigrate to Canada from England. He said there didn't seem to be too much chance of getting anywhere in the old country so thought he would try his luck elsewhere. After many days on boat and train he arrived in Edmonton and worked around there and Vermilion for about four years. In 1911 he returned to England to get married.
On coming back to Canada they came to the Frog Lake area and lived on his brother Frank's homestead for eight years; there Harold was born in 1913. Then they moved to their own land SW 1/4 36, which they called Fairseat Farm, after their village in England. Here I was born in 1919. Hard work and hard times were in store for all the early settlers, and to Dad and Mother it was no exception. Breaking and all farm work was done by horses, and the buildings were all made of logs, all the early ones with sod roofs.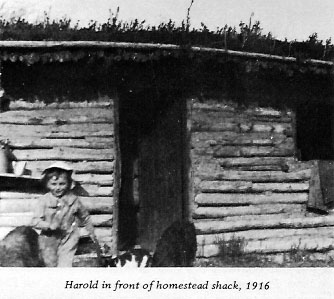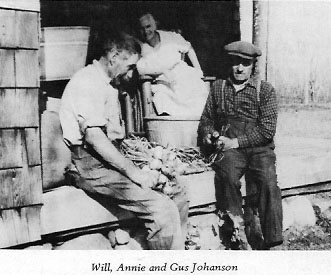 We lived mainly on farm grown produce. Dad, more affectionately known by the neighbors as "Old Bill", grew large gardens and always had a very large potato patch; well do I remember hurrying home from school to help pick up potatoes, bagging them and then we hauled them to the root house with the team and stoneboat. Anyone who came in the summer never left without an armful of rhubarb or a mess of peas, beans, or corn or whatever was ready and there was always a glass of homemade wine for all callers, made of either rhubarb, saskatoons or chokecherries. Mother had a large flower garden and in the house was an abundance of house plants and many were the seeds and flowers that were given out. Jam was made of wild fruit and rhubarb, marrow and citron, then later on we had currants and raspberries. In the fall a load of wheat was taken to Weibe's flour mill in Vermilion for the years supply of flour; porridge was often made of cracked wheat cooked overnight in a double boiler on the heater.
Schooling was a problem at the beginning, but when Frog Lake school was opened Harold and Jack Holmes used to board with Mrs. Sillem and attend school from there. Later Dad helped build Martin School and was chairman of the school board for many years. Martin School got its name from Joe Martin, who donated the piece of land where the school originally stood.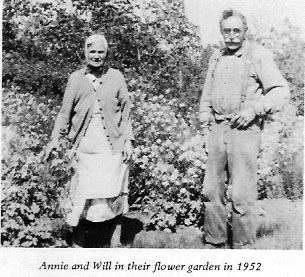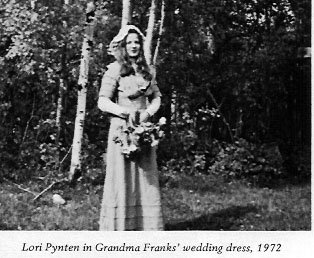 Highlights of the summer were the trips to Ross Lake on Sundays, where a student minister had church and a teacher took the younger ones for Sunday School. In the fall it was a chicken supper and then later on the Christmas concert. The teachers were famous for the work and the costumes that went into those early concerts and they were thoroughly enjoyed by all. One night that stays in my mind was when Frog Lake and Martin had their concert together in the old Frog Lake Hall on top of the hill by Harry Bowtell's. I can still remember reciting "The Night before Christmas" in its entirety, while someone steadied the wooden box. I was standing on.
Later on a C.P.R. quarter, formerly farmed by Mr. Biglow, became available and Dad was able to get it. This land became the home of Harold, who married Ethia McGowan in 1941. They were later divorced and Harold remarried. He and wife Kay (Mallett) are still farming this land along with other purchased later on. Harold's children are Donna and Blaine. In 1952 Mother passed away. Dad continued to live on the farm until he was not able to do so any longer, then came to live with us where he stayed for four years. Then, at the age of 92, a cold turned to pneumonia and in March of 1970 he was laid to rest beside Mother in the Frog Lake Cemetery.