THE ALBERT LARSEN FAMILY
- by Helen L. (Larsen) Biesch
Albert and Augusta Larsen, with their family of three boys and three girls, migrated to Canada from Minneapolis, Minnesota in 1918. They settled on a farm between Outlook and Broderick, Saskatchewan where they resided until 1920. It was here that our second youngest sister, Clara was born in 1919. My dad was a carpenter by trade and so his farming experiences didn't work out very well. But, being of an adventurous nature, he decided to move on to Frog Lake, Alberta. As much as I can remember - Frog Lake and surrounding country was more or less the wilderness country. Our homestead was right in the middle of bush and forest. We had a team of horses and Dad and the boys managed to clear a spot where he cut down logs and built a two story log house. They managed to clear a few acres to plant oats and a small garden. How this was done I don't remember as I was only six years old but I do remember they used dynamite to blow up the roots on some of the big trees. We had a few head of cattle to keep us in milk and butter and our meat was mostly wild meat - deer and rabbit, and in the winter Dad fished at Cold Lake; this we smoked and always had fish on hand.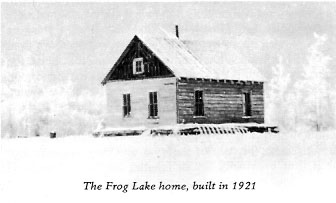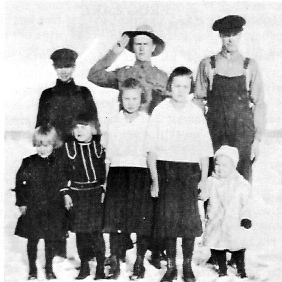 In 1921 our youngest sister Hilda was born. Being miles from a doctor our dear neighbor, Mrs. Thora Kjenner, came by horse and cutter to attend Mother at this time. In the winters my dad used to go away and do carpenter work and at this particular time he was in Rosetown, Saskatchewan, working. As time went on we children were getting older and Mother and Dad had to start thinking about moving on again so we could get to school. We lived about 14 miles or more from a school, and transportation being almost nil, it was impossible for us to attend school.
It was in the spring of 1923 or 1924 that we loaded everything into two caravans and moved to the Fusilier, Saskatchewan district. We children were able to attend school which was only two miles away. Dad again tried farming, with the help of the boys, and they did make a go of it, but eventually, as all families do, we had to leave home, each making our own little niche in life. Dad never, ever became a Canadian citizen and eventually he and Mother, the boys and two girls moved back to Minnesota. My sisters, Myrtle, Clara and myself stayed in Canada and became Canadian citizens.
I hadn't been back to our old homestead at Frog Lake, until the 1st of August of this year 1975 - about fifty-four years. I was fortunate to locate Anna Bristow. Her husband, Frank, was kind enough to show us where our homestead was. I must admit I was a bit saddened to find the old log house gone, the yard grown up into trees and the forest all cleared away. But I guess that's progress. To me it will always be the happiest years of our childhood - so close to nature and all the wild birds and animals of the forest. After my visit to Frog Lake in August I came back home, all enthused and excited, to relate my findings to my sister Hilda who was born there but alas! the very next week we received word of her passing and flew to St. Paul, Minnesota for her funeral. There are only four of us girls and one brother left now.
We were all very young when we lived at Frog Lake but I can remember an Indian by the name of Joe, and his mother. Joe was a good friend of my brothers. I also remember a gentleman by the name of Fryingpan. I am looking forward to reading the book "Land of Red and White" and who knows but what the paths of our childhood friends will cross again.