RUDOLF AND LEINTJE FLEMSTROM
Taken from Lilian's letters to her Martin School classmates, and
from information supplied by Kurt.
Rudolf Flemstrom was born in 1882 at Langsele, Sweden. His wife, Leintje, was born in 1896 in Holland. They came to British Columbia and in 1919 their daughter, Lilian, was born at Golden, B.C. where they farmed.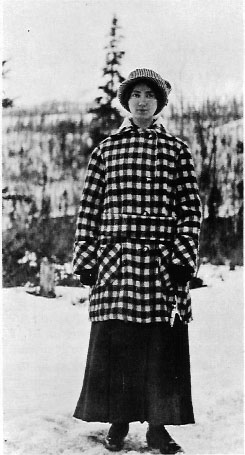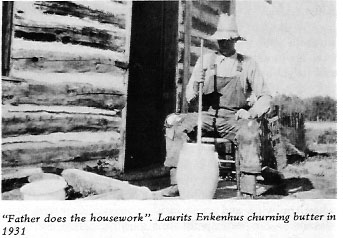 They came to the Martin School district in the late 1920's and lived at Ole and Gust Johnson's place until they moved onto S.W. 1-56-4-w4th, which, at that time, belonged to Phil Sillem. Their son, Kurt, was born in 1929 and within a few days Leintje passed away.
Ten year old Lilian kept house for her father and attended the Martin School; her attendance was quite irregular as looking after her father seemed to be her first concern. She was a very talented girl and had she been given a chance to furthur her education she could have been a success in almost any field. She seemed old for her age and at ten years could sew by hand better than most adults.
The United Church Minister of Elk Point, Rev. Smith and Mrs. Smith, took care of baby Kurt for two years until they left for missionary work in Africa. They were reluctant to expose the baby to African diseases so they allowed him to be adopted by Laurits and Eldri Enkenhus. One of the highlights of Lilian's life here was one day when the Rev. Smith and his wife brought the baby Kurt to school for her to see. You never saw a more happy girl. She beamed all over!
Considering the little schooling she had acquired, her English was very good, and after she returned to Sweden with her father in 1932, she kept in touch with friends here by letter. The letters she wrote were most interesting, describing the Swedish country side and way of life. Her letters revealed a quite unhappy life. She never married but continued to care for her father in addition to holding down an exacting position of office work in Sweden. She loved sewing and always wanted a sewing machine, but never managed to own one.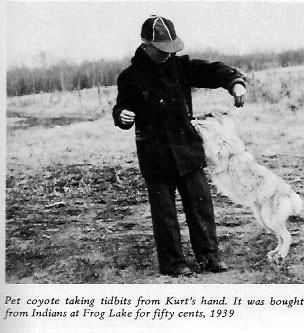 In the 1950's her father passed away. In 1964 or '65 she visited some of her school chums here. She passed away in Sweden in 1972.
Kurt grew up under the kind supervision of his foster parents, completed his education and became a professor. He got bitten by "the ski bug" while lecturing in Belgium in 1966 - 70. He is now married and at the time of writing was on his way to a skiing vacation in Austria. He currently lives in Maryland, U.S.A.
L. Enkenhus was born in Gudbrandsdalen, Norway in 1891, emigrated to the U.S. as a youth with a number of other children of the family; worked on the farm of his brother-in-law, Anders Anderson in Minneapolis; took a homestead eight miles from Heinsburg in 1911; married Eldri (born 1893) in Minneapolis and moved permanently to Alberta in 1926. He passed away in 1972. Laurits's brother, Olaus Enkenhus, farmed for many years on the banks of the North Saskatchewan; two of his sisters were the wives of neighbours, Holmen and East. Both passed away many years ago.