FRANK AND ANNA BRISTOW
I, Frank Bristow, was born on a farm near Okotoks, Alberta, November 10, 1902. I came to Frog Lake with my parents in 1910.
Dad rented the Jack Johnson place, two miles south of the river, so we kids could go to school. We went to Elgin School, mostly by horseback. We had about four or five miles to go. The school was only operated in the summer month; also we missed a lot and didn't get much out of it, so in 1914 we moved back to the homestead again. The Frog Lake School was built on the S.E. corner of this place.
Our first teacher here was Albin Varnum. He was quite a religious man and a hard worker. He was boarding with my folks. He looked after all the janitor work at the school. He used to go to the bush, cut his own wood, then had us kids help him carry it out. He also sawed it up with the bucksaw.
There was no water at school; we kids carried it by bucket from McGowan's, a quarter of a mile away. The pail sat on a shelf with a tin cup and we all drank from the same cup and nobody got sick from it.
As far as I can remember there were about twenty-eight pupils in all, about twenty of us in the first grade, big and small. One day we were playing some games and did a lot of running. Ruby Philcox got sick and wanted to go home. She did so shortly after noon. The teacher went over there that evening to see how she was and stayed there all night. Ruby died shortly after from appendicitis. The teacher, Mr. Varnum, preached the funeral sermon and Ruby was buried in the German Lutheran Cemetery north of Heinsburg.
Our school was forty miles away from the nearest railway station and the only way of travelling was by horses. A person would think it would be hard to get teachers, but that was not the case. My schooling got off to a bad start. I went for a short while and then was away for so long that I had to start over again a couple of times. As it happened I was almost twelve years old and still in the first grade. It was not too bad for a while but being away so much before I got started, I almost developed a dislike for school. My brother was away to war and help was hard to get, and it wasn't hard to persuade my dad to let me stay home and help with the work.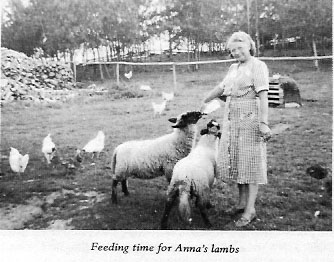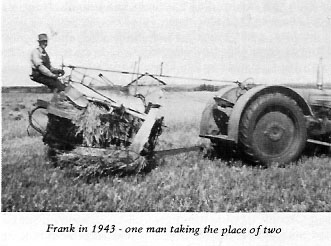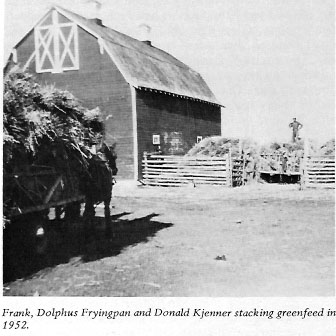 When I should have been going to school I drove four horses on the binder and if it quit tying or something like that I could always find the trouble and get it going again. I could solve mechanical problems but I couldn't solve school problems. I quit school long before I should have and didn't even finish the fourth grade.
First time I helped with threshing I hauled water with four horses for the steam outfit. It was very dry that season and I sometimes would haul three to four miles. I would haul two loads one day and three the next and always managed to keep the supply up. Another year they let me fire the steam engine and I liked that much better. Once in a while they let me run the engine for a short while.
I was always interested in steam power and one time I built a steam engine from scrap material and got it to run very good. My dad traded the steam threshing outfit to Mr. Barstad for an International Titon gas tractor and a couple of plows and other machinery.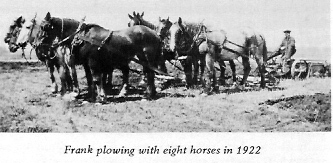 It was the first gas tractor in this part of the country. It had steel wheels and was rather rough and hard to handle. I managed to keep it going and broke about thirty acres one summer. That fall we threshed with an old threshing machine; we had to cut the twine on the bundles and feed them into the machine by hand. That was my job, also to look after the machine and keep it going. It was a pretty dusty job. After we finished threshing at home, I took it out and threshed some for the neighbors.
It was all stack threshing and there wasn't anybody who had very much. I threshed for Jack McGowan. He had hauled in the bundles and Mrs. McGowan had done the stacking; big round stacks, eight loads of bundles to the stack, the most perfect stacks I have ever seen, they were all the same size and shape.
The time when we farmed with horses people thought all the land had to be plowed. I remodelled a three furrow tractor plow, made an eight horse hitch, and did most all of the plowing with eight horses. It meant long days when I had to look after a bunch of horses. I had to start at 4:30 a.m. to be in the field by 7:30, worked until 6 p.m. then looked after the horses, and sharpened plow shares. I lots of times sharpened some for the neighbors, quite often worked till two o'clock in the morning.
In the winter my dad often had a couple of thousand bushels of wheat to haul to market in Kitscoty. I did most of the hauling with four horses and sleigh, one hundred and twenty bushel to the load. It took three days to make the trip. Sometimes I made two trips in a week. I made quite a few trips each winter for several years.
Wages from the time I left school and all through the twenties were not very good. To earn a little extra money, in 1922, I drove a truck for Mr. Mahmud Rahall, hauling cream to Vermilion. It was a Model T. Ford, geared down to give it extra power. It would only go twenty miles per hour at best. Usually I left at 4 a.m. and brought back a load of freight for the store, never getting back until 10 o'clock at night. For this I was paid $4.00 a day which was considered pretty good wages at that time.
In 1924 I worked on the road with four horses, ten hours a day, with one hour off at noon (no coffee break those days). I drove back and forth three miles, fed and looked after the horses, which meant about fifteen hours a day for $7.00.
There were a couple of summers in the early nineteen- twenties I worked repairing the road between Frog Lake and Cold Lake. We worked north about as far as where Beaver Dam is now.We could go as far as about twenty miles without seeing where anyone was living. The road was just a crooked wagon trail winding through the bush. Most of the country was covered with big, tall trees, so thick in
places that the sun hardly shone on the ground. In places the road was only about ten feet wide and in most any low place there was a mud hole. Our job was to dig out rocks along the road and to cut logs and brush and lay them in the mud holes; then cover it with dirt using two horse slips. Sometimes there were so many rocks it was hard to find enough dirt.
We had a tent and camp outfit and camped near where we happened to be working. The flies and mosquitoes were so bad it was almost impossible to work horses, and sand- flies so thick we could hardly see. At night there were no flies but more mosquitoes; often they were so thick it was hard to tell the color of the horses. At night we built smoke smudges for the horses which helped some. We would fill the tent with smoke to drive the mosquitoes out, then close it when we went to bed, but there was always some that found their way in and made it hard to sleep. There were about six men working and some days we only made less than half a mile, others maybe a couple of miles, depending on conditions.
I stayed home and helped my father with the farm work until he passed away in December 1925. Then I did the farming for my mother. I had never intended to be a farmer as I was sort of "Jack of all Trades." I was quite mechanically minded, was handy at repairing machinery and black smithing, and was quite often called upon to do that kind of work for others. The Indians called me "The Fixit Man." My main sport was big game hunting. I enjoyed getting out in the wild country even if I didn't get anything, but often I was quite lucky.
It was the beginning of the depression when I started farming on my own. I had very little to start with, but my girl was coming back from Norway and we planned to get married. Here is her story:
I, Anna, was born in Oslo, Norway, September 14, 1893, of parents Gustav and Thora Kjenner. When they migrated to Canada I remained in Norway, but later I was over to visit them. However, in 1931 I came over to stay.
August 19, 1931 Frank and I got married in Elk Point by the Lutheran minister, Pastor Lorentzen. Trygve Kjenner and Wilma Salmon were our attendants. We had a family gathering at my parents home after we got back and a couple of days after we had a wedding dance in Heinsburg in the loft of Jack McMullen's livery barn, with Gerald Lawrence's orchestra playing.
We first lived on the W. half of 13-56-4-W4th. That place was willed to Frank by his father, but it was not suitable for farming. It was all covered with thick brush, was very bad for rocks, and had only fifteen acres under cultivation. There were a few old log buildings there but there had not been anyone living there for a few years. We got the house fixed up, white washed it outside, and with wall paper and paint inside made it into a cosy home. For me it was quite a change. I had been living in a city all my life with all the conveniences and here I had to get used to coal oil lamps and pulling water out of the well. I had never lived on a farm before, but I soon learned to milk cows and do other farm chores and raise a garden. I like to be close to nature and see things grow and such. It was quite a change from sitting behind a desk and working with figures.
It was in the time of the depression, and money was scarce. We had only fifteen acres of wheat that sold for 20 cents a bushel, two, two year old steers, that sold for $18.00 for the both, and four 200 pound pigs that sold for $12.00 for the four. That was our main income, but with a good garden, wild meat, eggs and milk we managed to survive. The next year Frank rented forty acres from his mother so it helped out on the feed situation. We had a model T Ford but could not afford to run it so Frank made it into a cart and pulled it with a team. July 9, 1933 our daughter Annie Louise was born, which made us both very happy.
We stayed on that place till the spring of 1938 when we moved over to Frank's dad's homeplace. There hadn't been anyone living there for a while and buildings and everything were in a poor condition. It took quite a while before we could make much out of it.
I loved music and had been playing the piano since I was eight years old. When I became a farm wife there wasn't much time for playing, but sometimes, especially in the winter time, we got together with friends and neighbours and had a musical evening. Playing duets with Mrs. Jenner or with Alex Peterson on the violin, and later Mr. Hunt, we would have an enjoyable time.
In May 1939 Frank's sister Nellie died and left five young children. She was married to my brother Fritz. The two oldest, Donald nearly eleven and George nine years, came to make their home with us, and they became just like our own sons. Annie too, was happy to get brothers as she often before felt lonely being the only child. The boys stayed with us till they got married and went on their own.
A new well was needed on the place so George McGowan and Frank dug one by hand by pick and shovel though hard clay and hauled the dirt up by a windlass. The well was four feet square and seventy-two feet deep. It was a big job but when it was finished we had a good supply of water. Frank farmed with horses till 1942 when he got his first rubber tired tractor. The same tractor is still in running order for odd jobs around the place. He started in mechanized farming then.
Gradually we got more cattle and built up a good herd. We also had pigs. One time we had a sow that died and left ten little pigs a few days old. I raised them by hand and saved them all. For a few years we had sheep and there was always a lamb or two to feed on the bottle. They used to come running when they saw me, hoping for another bottle of milk. One year we even had six bottle lambs, always at my heels - even followed me over to the neighbors. We were in mixed farming but our main interest was raising beef cattle.
April 1956 Annie and I went to Norway. She had always wanted to see the land of my birth, as I had told her so much about it. We went by train, via Montreal to New York, where we boarded the boat. "Oslofjord" to Oslo. Crossing the ocean took nine days, so with the train and boat it took us two weeks to get there. On later trips we have gone by plane and it takes only eight hours from Edmonton to Oslo.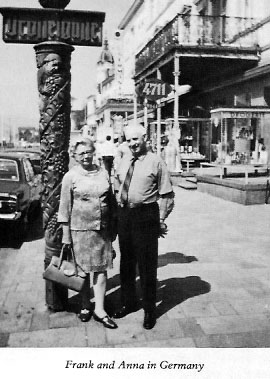 In February 1967 Frank and I decided to get away from the snow and cold for awhile, and we made a tour of California, Arizona and several other states. After we got back, we were only home for a few weeks and took off for a tour of Norway, so Frank could see where I used to live and see the beautiful country of fjords and mountains. We made a second tour in 1970 when we also visited Denmark and Germany, and saw many interesting places. In 1972 my grandson Lee and I went to Norway. I really enjoyed showing him the places where I used to live, the schools I attended, the office where I used to work, and also the beautiful country. I think Lee enjoyed it, too.
We are retired now but are still living in the old house built in 1912. We now have the modern conveniences and are quite comfortable. We are still both healthy and active in the community. Donald bought the Ed Rushfeldt place. He married Della Vinge and they have three boys. George married Irene Lorenson. They have four boys and live at Fort Saskatchewan. Annie married Merle George, and they have two boys and one girl. They took over the farm here and built a house in the yard.