THE STEVE SAWAK FAMILY
Of the eight children in the Sawak family, five were born in the Ukraine. These were, in order of age, Annie, Joe, Steve, Jennie and Walter. Mike, Tillie and Mary were the three Canadian-born members. Joe's widow, a sister to Mrs. John Maksymuik, lives in Vermilion and Kay (Melnyk), Mike's widow, lives not far from us in St. Paul. Joe lived south of Heinsburg until retirement to Vermilion, and Mike, until his death, lived south and west, in the Ellsworth district. Both Tillie and Mary married Krucik boys, and Annie married Alex Zayac.
The "good old days" on the Angle Lake homestead were not always so good. Our light was supplied by candles, and as a winter pastime our mother would read to us from a Ukrainian calendar, much as mothers did from catalogues when other reading material was unavailable. Those of us that were old enough kept busy hunting rabbits and cutting wood. We had a sod roof and when it rained we got under the table or got mud on our heads. We had no close neighbors. A man named Wilson, in the area at one time, was called an outlaw because he had apparently escaped the U.S. law by coming to Canada. He first lived north of Ozimko's, then north of Kowal's, where he eventually died. I bought all his horses, one of which was a large stallion that I later traded to Bob Castle.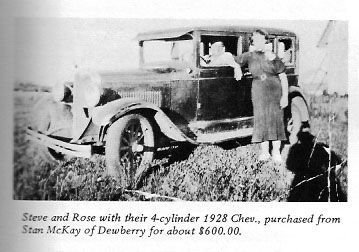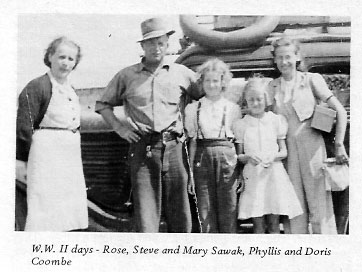 In 1926 I married Rose Krawchuk, Alex's sister. Both our daughters, Peggy and Mary, were born while we were on the farm, east of Walter Kuziw's. In the mid-1930s I took over the poolroom from Fritz Kjenner. I first went to work on the ferry in 1944 with Bill Crook, and we worked together for two seasons. Peggy married Alvin Womacks in the 1940's. They now make their home at Slave Lake. Their children include Diane, married with three children, and Gary, Brian and Dennis. In 1951 Mary married Eddy Voll, a trainman on the C.N. run to Heinsburg. They have six children and live in Edmonton.
We left Heinsburg in 1951 and moved to St. Paul. I operated a government grader for seventeen or eighteen years. Since retirement I have continued my interest in antiques, having bought and sold quite a number of items. We recently celebrated our golden wedding anniversary with relatives and friends. In the evening a supper and dance, with music by the Heinsburg Old Timers, was held in our honor. The following day open house was held at our home.