FRED CHMILAR HISTORY
by Jean Sawak
Fred came to Canada on May 19, 1908. He was in the Army for two years, from 1915 to 1917. In 1921 he married Nancy Kuziw. They lived in Vermilion, and Fred worked out. Then, in 1928, they bought a farm (S.E. 1/4 6-56-5-4) in the Primula district. Fred died on September 25, 1957, and Nancy continued to live on the farm for another year. She then moved to Edmonton. She lost her second husband and is now married for a third time, living in Beverly.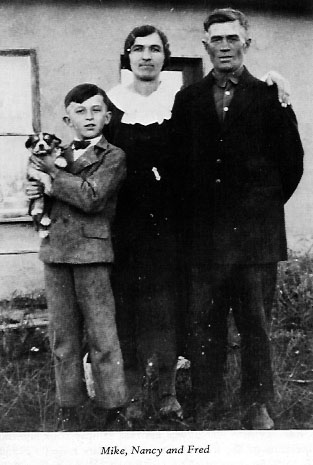 Fred and Nancy's only child, Mike, married our daughter, Olga, in 1951. At Christmas of 1959 their oldest son, Randy, transferred from the Grade I class at Heinsburg. Mike had been hired for a job in a grain elevator at Andrew. Before the term was done he was transferred to Egremont, and Randy again changed schools. Mike later bought grain at Hilliard
The family now lives (in 1975) in Beverly and Mike drives truck for Alltrans. The three boys are in the city. Daughter Gail lives in Penhold, Her husband works at a Red Deer funeral home.