THE ARTHUR PARENTEAU FAMILY
by Omer Parenteau and Alma Twarog
Arthur was born at Prince Albert, Saskatchewan, in the year 1903. He is the eldest (still living) of the children of Damose and Adeline Parenteau. He came to Norway Valley district in 1915 with his parents, brothers and sisters.
At that time this was a sparsely settled pioneer area, an ideal place for a family who loved the outdoors and they had a truly pioneering spirit. Times were difficult and the family all had to work hard to make a living but Mrs. Parenteau was a good manager and taught her girls to become very good homemakers and good seamstresses. They made most of their own dresses.
Very few neighbors ever called him Arthur; to them he is simply "Art". He and his brother Jules helped their father on the farm. There was no school at Norway Valley while they were of school age so their education quit when they came here. However, they learned to make a living and enjoyed their farm life as they grew up. Art was very fond of wild horses and used to round them up, break and train them to be useful on the farm and there was usually sale for a well broke horse, either for saddle or harness. He and his brothers worked for local farmers and at most harvest times, drove teams for the threshing outfits, usually around the district, but sometimes going long distances from home where wages were a little higher.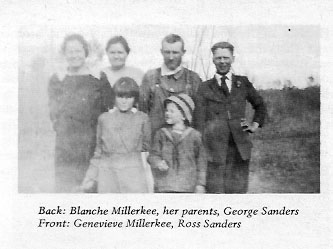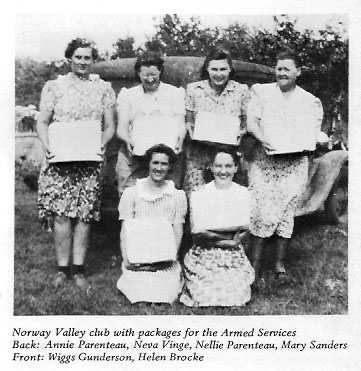 Jules had a special talent for carving and in later years made it a hobby. Art loved music. He learned to play the violin when he was quite young and played at dances. His brother Sam had a beautiful boy soprano voice and often entertained at neighborhood gatherings, mostly accompanied by Art and his violin. I think they were quite a musical family, which is not unusual with many French Canadians. The Parenteaus are French Canadians.
Art married Blanche, the oldest daughter of Mr. and Mrs. Bill Millerkee, also of Norway Valley. Within a year or two Blanche passed away, leaving a two week old baby boy. The boy was named Rosaire and grew up with Grandma and Grandpa Parenteau. He, too loved music and when his son, Maurice, was a teenager who played the drums, they made recordings which were quite popular. Rosaire married Hazel Ruud and they have five children, three boys and two girls.
Eventually Art remarried, this time to Nellie Gower, daughter of Roy and Florence Gower of Acomb district. Seven children were born to them. One afternoon in 1947 while Art was away the children came home from school and found their mother dead. It was a terrible ordeal.
In 1950 Art moved his family into Heinsburg where he became school janitor. He worked there for a few years until most of the children were grown up and on their own.
He went to Drayton Valley where Jules and other brothers and sisters lived. He worked there in the oil fields for about six years, then moved back to Heinsburg where he worked on farms until his health failed. Now he has retired and lives in St. Paul, Alberta.
Two of his children are deceased - Leona in 1957 and Cecile in 1975. Rosaire lives at Innisfail, Alberta; Alma Twarog at Heinsburg; Agnes Piquette at St. Paul; Viona Whitlow at Swan Hills; Omer married Joyce Riedlinger, their home is at Drayton Valley, and Gary of Edmonton married Pat Wenzel.