"WHISTLE WHILE YOU WORK"
by Lois (Maxwell) Nichols
The above title was chosen for the story of Robert Jerrold (Bob) Maxwell firstly because it seemed very fitting, and secondly because the people of Heinsburg said his whistling was "conspicuous by its absence" the morning he died. Bill McMullen, a life-long friend, said, "Bob was the only fellow I ever knew who could whistle when he was in trouble." Dad not only whistled but sang, too. A song that caught his fancy would proceed vocally as far as he knew the words, then would be either repeated or finished with whistling. Once when such a performance was taking place at the elevator Francis Gray walked in. "Do you like that better than singing, Bob?" he asked. Dad never forgot that incident, and we have chuckled over it many times.
He was born on October 19, 1907, the year that his family came up from Iowa, U.S.A. His father, Stuart Boyd (Mac) Maxwell operated the Tyrol post office in his home from its beginning on June 15, 1909 until March 21, 1910. He also did blacksmithing and operated the Mooswa ferry. In 1916 Dad's brother, John, drove his father to Pete Keitges' place on Monday mornings. Mac would stay there all week building the large house with the sun on each end, now owned by Cameron Isert. He died in the mid-1920's and his wife Celeste Ann (Foster) later married Allie Lambright. She passed away in 1937, sitting on the floor where she had been turning the radio dial to get Byers' Flour Mills radio program for children, with "The Farmer."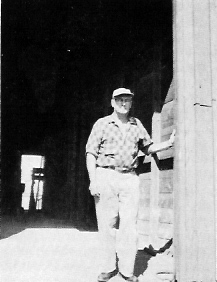 Bob at the UGG elevator 1957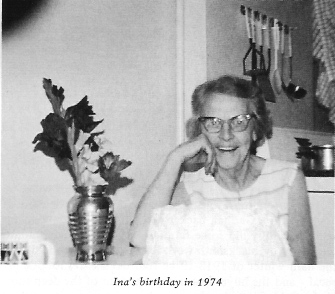 Dad left home at a very early age. In the years before marriage he worked in many different places. He at first made his home with his sister, Cecil, and her husband, Art Chilbeck at Islay. Later he worked for various farmers and at the Cross Ranch at Vermilion. At Eston, Saskatchewan, he worked on the railroad, and he was a member of a survey crew working between Le Pas and Churchill, Manitoba. It was there that he experienced the chill of the timber wolf's cry and learned to drive a dogteam. His teacher was a big Indian named William Brightnose, who rescued him from freezing. The men had been ordered to carry tea with them at all times. William had warned Dad not to go to sleep, but, this particular time when he was out alone the inevitable happened. William came along, built a fire, and got the warmth-giving tea brewing. The isolated life took its toll in other ways, too. One night when the men came into the camp they found the cook standing in the centre of the table, full of extract and wielding a butcher knife. Needless to say, he had to be taken out of there. Other winters found Dad north of his home area. At Glendon he and Fred Hall got out railroad ties. He hauled out ties in the St. Walburg-Frenchman Butte area with Glen Cinnamon, Neal and Leo Edwards, Fred Frisby and likely others whose names I have not heard. He was at St. Walburg when his father died. He was working on highway construction between Camrose and Wetaskiwin in 1929-30. The spring of 1925 he had come to work for Fred Bowtell and thus met my mother, Ina Bowtell, Harry's daughter. In the years that followed they had corresponded. Mom attended Frog Lake School, then spent a year in Edmonton, living with the Blackstock family, continuing her education. Mr. Blackstock was head of the crew that put in the steel bridge at the Bowtell crossing in 1924. She and Myrtle McGowan spent three school terms (1925-27) at the George Bristow home in Strongfield, Saskatchewan. Later she went to work at the Elk Point hospital, then married Dad in 1930. The ceremony took place at Ashmont United Church with Norman Long and Aroma Hatchard attending.
While Dad worked for Harry Cinnamon, Mom stayed at Lambright's. The next fall when he went out threshing at Clandonald with his brother John she stayed with John's wife Cora (Millholland). The winter of 1931-32 found the folks in a small house close to the road at Young's, east of Lindbergh. Dad, with his brothers Gaylord and Glen, was north getting out logs for Bob Chanler and several Clandonald people. Nellie, Dad's sister, was staying with Mom, and I was several months old. It snowed in the night, and next morning they discovered a set of large man's tracks up to the window. If his size matched his tracks they surely would have been frightened had they awakened. We later moved onto the Dunham place on the hillside above the Lindbergh school While there my sister, Doreen was born in February 1935. I enjoyed sitting on the stile watching the school children playing ball but running away was my favorite pastime. A number of people will recall bringing me back home. It must have been a frustrating and worrisome time for my mother, especially when our dog "Teddy" would get between us when a spanking was in order. Everyone's cattle ran at large, a bull with each herd; trains ran at all hours; bush was thick, and the creek was crossed by navigating a single log over it.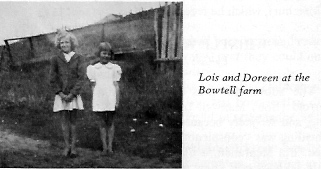 While in that area times were not easy and money scarce, but virtually everyone was "in the same boat." I recall Dad saying there never was a better neighbor than Al Carlson. As long as he had beef he shared it, a contrast to some who shot their animals and left the carcases lay, at a time when the beasts weren't worth the feed they ate. Some went on relief, but when asked about it, Dad said he was too busy making a living to go down and apply. Horses played an important part in our lives. I loved to ride behind our black driving team with Aunt Grace, for we both liked speed. My first driving experience involved a team on a two-wheeled cart. Although forbidden to touch the lines I did so and ended up bouncing out, barely missing the stumps all around.
On the farm Dad was growing only greenfeed and thus was able to work away from home. He had the only shod team around in winter so he hauled grain for others, as well as lumber from Heinsburg to Lindbergh with "Little Pete." Pete went by the name of Nelson, although he said his real name was Ludvigson. After coming from Norway he found that the name was difficult for Canadians to pronounce and spell. Dad and his team were also providing a livery service. People arriving on the train hired him to take them to their destination, among them Noreen Pavey, school teacher, who later married Ray Wilcox. He also drove Vic Ramsbottorn in his capacity as casket maker and Notary Public. Dad helped in Vic's lumber yard and built a number of chimneys. Usually in the fall there were many days of threshing and he hauled the bunkhouse for Hardy Lawrence. Threshing crews said they never got much sleep until his supply of stories ran out for the night.
We moved to the Bill Crook place west of Whitney .Lake in May 1936. Soon after Mom was very ill and could scarcely talk. Since then a doctor has stated that it must have been polio. No one else was ill at the time. While on that place she cut her foot badly with an axe and wasn't able to get around too well for some time. Doris Coombe, our neighbor, loved to cook and was a great help. Mom had to have an appendix operation in 1937, so Nancy (Anderson) Grothen looked after the house. Upon Mom's return we asked her why she didn't make porridge like Nancy — with lumps! Dad was the doctor in our house and his ability was tested in the days following May 7, 1939. On that Sunday Doreen was scalded down the side by a pan of water used for boiling eggs. I can remember him using various techniques to get the bandages off when they'd be stuck to the burns, talking to Doreen to keep her mind off what he was doing. Twice Dad cut his foot open while getting out wood. Mom told him he'd better stand in a washtub and cut all the trees around it. The "knot" on each instep bothered him through the years.
My mother's 1939 diary indicates that besides operating the farm Dad was cutting wood for older people, friends in Lindbergh, the school, etc., cutting ice for a nickel a cake, driving Eddy Davis around buying cattle, sometimes buying for Eddy in Heinsburg, inoculating and shoeing horses for several miles radius, working on the road, threshing out, and helping prepare stages for school concerts, and the hockey rink at Third Beach at Whitney. We sold and delivered, milk, cream, eggs and butter to campers at the lake for years — at 84, 12 1/2¢, 154 and 154 respectively. A 204-lb. pig brought $14., a calf $11., road work $3.60 a day, and a day's livery service $3. A package of cigarettes or fine cut tobacco was 10¢, papers 5¢, Oxydol 250, flour $2.45 per hundred, a dress $1.25, apricots $1.30 and peaches $1.55 per case.
Once while-we were on the Crook place a man appeared at the door. He said he hadn't eaten for three days, so Mom warmed up the left-overs from our supper. While she was doing this he saw Doreen chewing gum. He immediately picked up the knife and fork and went through all the motions of eating. When the food was ready he ate a great deal, and we knew he had told the truth.
There was continuing controversy between Dad and Glen as to the relative merits of horses and mules, so it was a difficult pill for Glen to swallow when the horses out- pulled the mules. Another time, however, Dad wasn't too happy with his horses' performance. He had hooked four onto a granary in the yard. They swung this way and that and virtually lay down in their harnesses, but couldn't budge it. When he left them to get something they ran away and pulled it for about a half mile! I'm sure it wasn't setting where he'd intended to put it.
In August of 1940 Pete was killed. At the time he was working for Frank Franks. I don't believe I ever saw anything upset Dad like that did. Pete was a fast rider on his mare Rusty. A wire had been strung across an old road around Ross Lake but no barricade or warning was there. When Rusty hit it Pete flew off, slid for several feet and lay for some time. He was found by Floyd Bendixen and taken to Elk Point hospital by Nels Litchfield, but never regained consciousness. Dr. F.G. Miller said his brain was like a beaten egg, and had he lived he would have been a "vegetable." He was buried at Mooswa. Pete had rented the Coombe place when Leonard and Eva moved to Heinsburg. After his death we rented it and in 1941 we moved over there. The well was situated to the east so we had to haul water, but the location was convenient when I did janitor work at the school.
Horses were still playing an important role in our lives. I can remember my folks sewing horse blankets and chest protectors at night. One would read aloud while the other sewed. Our mare, Babe, was struck by the train and found by Mr. Greenwood's crew. She survived but bled from the nose if she tried to pull a load. It didn't stop her from bucking off two girls who didn't know that she didn't ride double! Wee Donald, a black white-faced stallion with huge feet, was at our place for a time. I believe he was the sire brought to Alberta by the Weaver Brothers north of Lloydminster. The only horse near his size was one Dad helped get out of Borden Lake. We had Carlson's little pacing mare, Beauty, for a time, too. Dad had practiced for the July 1 cart races at Black Horse Lake, driving across the sand plain where footing for her was good. I had been with him once when she kept right behind Frank Madvid's truck. This was thrilling, so some time later, with me driving, Doreen and I came into Heinsburg right behind Carl Wenzel's vehicle. Both driver and passenger (s) were more worried than we were. When we hit a dip in the road, at the corner of what was later Mike Buck's lot, I thought the cart would be gone before we came down again. I don't think Doreen or I mentioned the episode, but Dad found out and we were told, "No more." Once when a large load of lumber was hauled from up Bonnyville way the driver stayed overnight with us. His team of big blacks had their tongues nearly cut through and they hung out the sides of their mouths. A pair of men, who couldn't handle those high-spirited horses previously, had wrapped their bits with barbed wire! I'll never forget how I hated what those men had done.
Late in 1943 we moved to the W.O. Litchfield place, which was later taken over by Fred Behrendt and his wife. We then walked to Frog Lake school or rode with Peggy Ann Borger, who drove a black horse, Diamond. You could get home faster walking than riding in the cart behind Bird, her mule. In warm weather we often went to shows in Nick Mykytiw's hall (Sharkey's bus garage site now) with either Nels and Annie Litchifeld or the Browns.
School did not start in the fall of 1944 until October. I was in Grade X and the teacher, Steve Kalita, had agreed to include me in his Heinsburg classroom with Grades VII - IX. Myrtle McMullen was to teach Grades I - VI, so our two families did a "child swap." I stayed at their place and she, daughter Una in Grade I, and I drove the five miles one way with their mare, Bonnie on the buggy or cutter. Their son, Dean, was only four, so he stayed with my folks. He is at present Vice-Principal of J.R. Robson school in Vermilion, his own education having started with Doreen, who put him to work as soon as she got home from school. Frog Lake school was having problems. No teacher, then correspondence lessons. Doreen was riding a red roan named Brutus. He would run away with me but was so very good with her. He had certain places on the road where he walked, and others where he galloped, and this pattern was repeated day after day. He had a spavin which Dad treated, using a mixture of distilled water, apple cider vinegar, and an acid. It must have felt good because when Dad approached him with the bottle and a swab he would put the leg back to be treated.
The winter of 1944-45 Dad was cutting ice on the river at Heinsburg. Mr. McNeill, superintendent, asked Eric Thorne to recommend someone to replace him in the U.G.G. elevator. Dad was approached about the matter and in February he began working with Eric. On April 1, 1945, the family moved into town and I left McMullen's. While in town Dad inade many a trip with patients to the hospital; and was especially nervous when he heard an expectant mother's time/ was near. Each night he expected to hear a pounding on the door.
In 1945 I/ left for Ashmont to continue my education. Two years were spent in the dormitory, and one year with an elderly couple, the Marskells. In September 1948 I enrolled in the Junior E and I program at the University of Alberta, a one-year course after which you could teach Grades I - IX, inclusive. At the beginning of May 1949 I took over Tulliby Lake school and remained there two more terms. The school had been on correspondence lessons and I was the first teacher the children from Grade VI down had ever had. I taught at Ellsworth for the 1951-52 term and in August married Donald Nichols. We are still on the home place, farming and raising cattle. Our eldest, Mark, recently returned from Mexico and Guatemala, having been in an earthquake that measured over 4 on the Richter scale. Linda works at the University Hospital in Edmonton, and Brent is at home, farming with his dad. Reed, 15, is in Grade IX. All four have been in 4-H.
Doreen left school after finishing Grade X at Heinsburg and went to work in Edmonton. She also worked at various other places, among them Port Radium, where she was when we were married. While at Uranium City she met Charlie Burns, whom she married in November 1955. They had a daughter Charlene, now in Edmonton, who has a small son of her own. Doreen married a second time, to Bill Neil. They have a son Kevin, a daughter Jodi, and an adopted daughter, Kyla. Bill Neil Jr. (Butch) and Randy have been raised with them. At present they live on a farm in the Claysmore district. Bill works for Jackie Grant in Vermilion, having previously worked for Schlumberger for over twenty years.
In 1955 my folks built a new house in Heinsburg, and my grandmother had a small house in their yard for a time. Mom clerked in the Co-op store and later at Kapjack's. Dad sold insurance for Crown Life and Alberta Hail. He had been an avid baseball player from years back and spent the last few years as catcher for the Heinsburg team. He thought it ridiculous that grown men couldn't hit an object the size of a softball, and therefore found baseball much more challenging. He also enjoyed curling. Two of his ambitions were to see the World Series on T.V. and to drive a brand new car. Neither was to be realized. The folks spent Christmas Day of 1957 with Doreen in Edmonton, and the next day went on to Camrose to spend the day with Emma Bowtell. They had paid the Frog Lake Casket Association dues for her and Bruce. When they went to reimburse him Dad remarked something to the effect that they'd paid into it so long it was about time one of them collected.
The third week of January 1958 Mom was in the city and Dad was very busy, with grain coming in and cars to be loaded. We had gone to the Ice Capades at Edmonton, and the night of the 21st Mr. Wade, Dad's boss, had stayed with him. Dad was sick at 3:00 a.m. and again at 6:00 a.m., when he asked Mr. Wade to take him to the doctor. He was dead of coronary occlusion before he got his footwear on and got out to the car. We all hurried home and the funeral was held January 25th, with burial at the Frog Lake Cemetery. When the nurse at Camrose was asked whether Emma should be told she said she felt my grandmother already realized it. Emma never again asked if she could come back to Bob's place but simply inquired as to who took over the elevator. Mom remained in town for a time, then went to live with Doreen. Back in Heinsburg for a while, she then sold the house. After being in the Alaska earthquake she and the Neil family came out to Edmonton, then moved to Dawson Creek. For the last ten years she has been in her own place. At present she lives in Vermilion, where she has been for the past four years.
I suppose Dad is best remembered for the helping hand he gave to many and the story he had for any occasion. I have often quoted some of his sayings like, "want me to draw you a picture?", "clear as mud", "you might as well be sick as the way you are", etc. He disliked long hair on men and would say, "You'll soon have to get a hair cut or a dog collar." I wore out shoes, or outgrew them, at a furious rate as a child, and he told me, "If your feet get any longer you'll have to back up to a door to knock!" He could talk that way because he only wore a size 6.
He knew a great many people and seemed to feel that "a stranger was only a friend he hadn't met." He also felt that if he couldn't do something it was just because he either hadn't tried it or hadn't been shown how. No doubt this confidence had sustained him through the years, especially having left home so young. Maybe the whistle did, too!