KAPJACK'S GENERAL STORE
by Mary (Palynchuk) Kapjack
After farming for seven years in Gorlitz, Saskatchewan, my parents, Annie and John Palynchuk arrived at Lindbergh in the spring of 1928, when I was six. I attended the Lindbergh Public School where at that time grades 1-9 were taught. Then in 1937, after completing grade nine, I enrolled in a secretarial course at Alberta College in Edmonton, while my parents were operating their General Store in Lindbergh. My allowance while attending school was one cream cheque per month. That was $1.98, and occasionally, if I was very lucky, I would receive one for $2.25, as then that was all a five-gallon can of cream was worth.
Next, after completing my secretarial course in 1940, I helped my mother to operate her grocery store in Lindbergh. What I hated most was picking eggs out of pails of chopped grain that farmers packed them in to keep them from breaking while bringing them over the rough roads to trade for groceries. When my fingers broke through a thin- shelled egg in chopped grain, it became a sticky puddiny mess and quite often there would be several of these thin- shelled ones in a pail, Ugh! I had to pay the farmer for any I broke, even though they were only three cents a dozen, as the farmers needed every cent they could get. I did not mind finding eggs among whole grain or paper packing, but that chop! Oh!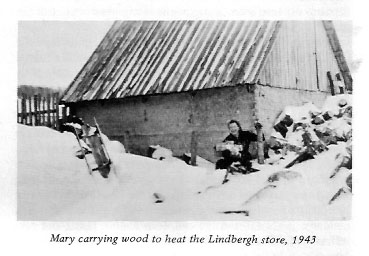 Mike and Elona (Helen) Kapjack were born in Trestina, Slovakia and upon arriving in Canada, first settled and farmed at Bellevue, Alberta. Later they moved to a farm at Northern Valley, Alberta where in 1919 their third son, Louis, was born. Here Louis, four brothers and four sisters were raised by their mother as their father passed away when Louis was four. Helen carried on the farm against terrific odds as she had nine children to care for and since there was no widow's pension, relief or any form of government assistance, all means had to come from the farm.
Louis attended the Willow Range Public School, served as an alter boy at the Northern Valley Church and left school as soon as he could to help full time on the farm. In order to have spending money, he cut cord wood for the school and picked roots for neighbors at ten cents per day. No one need envy the young folks of the nineteen-thirties. Louis's older brother, Joe, had the only pair of skates in the district, so they, along with the neighbor children, cleared a strip of snow off the ice of a nearby lake for skating. In order to use Joe's skates, the neighbor children paid him ten cents for so many times around the strip. No one was able to use the skates free so Louis had to pay the same as the others.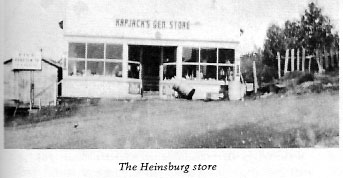 Later Louis left the farm and went to work for Imperial Lumber and Hardware Company in nearby Elk Point at $10.00 per month. That proved to be a disappointment money wise, so his mother loaned him enough for a sleeping bag and a plane ticket to Yellowknife where he worked in the Giant Gold Mines, eventually as a lift operator. I still have the sleeping bag but replenished it with down from the wild geese Louis hunted. Baseball, curling, hunting and fishing were always cherished by Louis.
It was in 1941 when I met Louis after he returned from Yellowknife, bringing with him a gold nugget which he later gave me. From his Giant Gold Mine experience, he saved enough money to buy a two ton Dodge truck and then worked on the farm for his mother where his truck proved to be a valuable asset. He used it in place of a tractor in the fields for harrowing and other field work that required lighter types of machinery. Louis hauled grain for his neighbors and since he had no auger he had to shovel grain on and off the truck. Furthermore, Louis used the truck when he came courting, and after we were married in 1945, the truck served us well in making a living by hauling grain and freight. Mother bought Fred Kowal's dance hall and lot in Heinsburg and deeded it to us for a wedding present. Louis and I stocked it ourselves and ventured into the general store business. Since Louis was fond of the outdoors, he operated his farms at Northern Valley and the Melynk quarter in the Primula district. Along with this, he rented the George Newhouse quarter, six miles north-east of Heinsburg and the Matlock half section in the Primula district from my mother. Later George Newhouse's quarter was sold to Elmer Bristow who presently farms it. Combined with this was the raising of hogs and cattle.
Since Louis was sports orientated he was an active member in the Heinsburg baseball, hockey and curling clubs. Furthering his sports interests, he raised and turned loose pheasants for five years, to try and populate our area, but the environment and would-be hunters took their toll.
In 1946 when Johnny was born, our only means of transportation was the Dodge truck; in 1949 we purchased a Chevrolet car. Adding to our work load in 1945, we took over as agents for the British American Oil Company, now Gulf Oil Canada Limited. At this time the Dodge was used to transport many barrels of gas for the local farmers. Then the gas was pumped by hand and barrels were rolled on and off the truck by physical labour. Today with electric gas pumps and a delivery truck, most of the hard labor is lost to modern technology. As a result of government regulations the bulk oil station is located nearly half a mile from the store. There have been many cold unpleasant trips for bulk oil and hi-test gas ranging from one to five gallons, bulk grease, five to twenty-five pounds and drums of gas. Today with container technology, we may only obtain grease in ten and twenty-five pound pails and grease gun cartridges which cost the consumer more than the good old-fashioned bulk supply for our farming needs.
Indian and white customers dug and dried sacks of seneca roots which they used for trade in the store. Then, dried roots were 10 cents per pound. A hundred pound flour sack full of dried roots weighed approximately twenty-five pounds. Now only a few Indians dig seneca roots and I buy them green at $1.50 per pound. Then I spread the seneca roots out in the sun to dry for a week, each evening gathering it up to keep it from getting damp during the night. Today dry seneca roots sell for $4.50 per pound, which is quite a contrast from 10 cents per pound.
Representing this division in the St. Paul Municipality No. 19, Louis was elected as councillor from 1958 to 1962 and on January 1, 1962, the St. Paul County No. 19 was formed. Louis then served as County Councillor from 1962 to 1964 and was the first county councillor to serve in Education and Municipal affairs.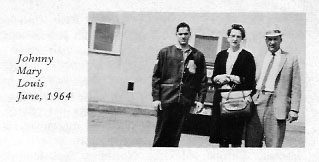 Through his upbringing, Johnny has been helping in the store, filling shelves, serving customers, delivering gas, and farming. He attended the Heinsburg School through grade eleven, along with piano lessons in the Royal Conservatory of Music at Dewberry. In music, he has completed his grade seven, and grade two theory. To complete his grade twelve, he spent two years at Alberta College in Edmonton. After graduating from there, he studied three years at the Northern Alberta Institute of Technology and graduated in May 1968 as an Exploration Technologist. Since September 1968, he has been employed by Imperial Oil Limited, until 1972 in Edmonton, and from 1972 to date in Calgary. Career travels have carried him to Northern and Southern Saskatchewan, Central and Northern Alberta, the Northwest Territories at Inuvik, Tuktoyaktuk and the High Arctic including Resolute Bay on Cornwallis Island and Axel Heiberg Island. To date, he has been on the first oil discovery well at 10E Atkinson H-25 on January 14, 1970 on the Tuktoyaktuk Peninsula and the first gas condensate discovery well 10E Taglu G-33 on June 18, 1971 in the MacKenzie Delta. Another experience has been in Eastern Canada on an off-shore location approximately 150 miles east of Newfoundland, Mobil Gulf Imperial Cumberland G-55. He has been in the Exploration Wellsite Department and now is in Geological Research in the Geochemistry department.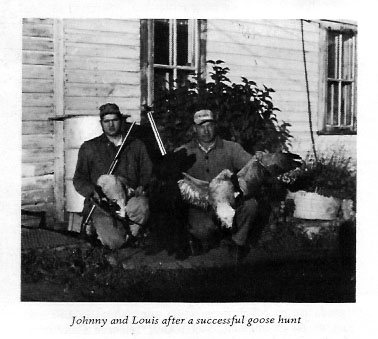 He, like his father, is interested in the outdoors which includes hunting, fishing, water and snow skiing, baseball, golf and swimming. Other interests are playing piano, dancing and photography. Photography has proved an interesting hobby as he has captured on movie film, the first oil and gas discoveries in the Arctic as well as trips to Hawaii, Europe, Mexico, Northern Saskatchewan and Alberta. In 1964 or 65 at the Frog Lake Farmers' Picnic, Johnny recalls his most memorable baseball game. The final-Elk Point Fire Chiefs vs. Heinsburg Pick-Ups. A tied game, final inning, two out, one strike and no balls called on Laverne Wilson, Louis on third base, then time out was called. Laverne was instructed to swing and miss the next pitched ball. He did, Louis stole home, was safe, and interference was called on the catcher. What a thrilling finish and joyous win for our Pick-Ups!
The fall of 1972 was very sad for us as Louis passed away on November 24, the day before deer hunting season closed, and today "In our hearts, he liveth still." He is laid to rest at Northern Valley, Alberta, where his life began on March 22, 1919.
Today retail business is much different than when we first started in 1945. Canadian Utilities brought electricity to Heinsburg in 1953 and we purchased our first electric display fridge. Telephone communication made improvements and aided the purchasing of supplies, giving more customer convenience. Now the ordering of supplies is done on computerized cards, in case lots only. The wholesalers refuse to break case lots to suit the whim of a customer, because of increasing labor costs and store inventory. Customers had informed me of how much they disliked the newer, handier spray cleaners so, after much correspondence to a firm that once supplied cake and powdered cleaners, I was able to obtain a supply of their powdered product. At the moment I am undecided what I will do, when and if I sell the store.