ROBERT (BOB) NEWMAN
by Lois Nichols
By 1916 Robert Newman was in the district we now call Martin, living on Section 2-56-4-W4. He was of German descent and may have come to this part of the country with a number of other German settlers. His former neighbors can remember him speaking of Chicago. There was one son, Henry, a daughter, Emma, and at least one other girl, all of whom resided in the United States.
Those who knew Bob believed he had been well educated. A man of musical ability, he made himself a violin. He liked to sing, and while holding the small Dewey twins, one on each knee, he would give his own rendition of "Two Little Girls in Blue." Sometimes he would both play and sing, commenting that "It gets schweeter all the time."
His home was about one quarter of a mile north of a large spruce tree that stood out in the field across the road, north of the Rushfeldt land. The first structure was made of poles with sod placed in between. Later a room made of logs was built on. The floor in that part was of boards, none of them nailed down.
His attire was as unique as his character. For shirts he bought about two yards of material, then cut a hole in the centre for his head to go through. Once he covered his sheepskin coat with canvas. The remainder was used to make pants which were laced up the front with binder twine. For shoe soles he used pieces of threshing machine belt. Willow cleats were fastened to the bottom so "he wouldn't schlip." His feet were wrapped in lengths of gunny sack for warmth.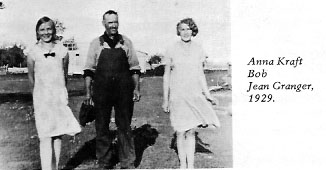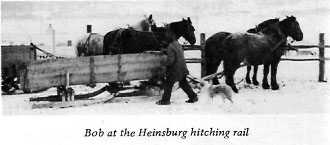 The winter of 1929-30 proved to be a time of testing for his footwear. On December 27 Earl and Abe Granger went to his home where they discovered he had frozen his feet during a trip to St. Paul. Emma Bowtell wired to Dr. Miller. On his advice Earl set out at 7:00 a.m. on the 29th to take Bob to the hospital. When he returned the next day he reported that Bob was in pretty bad shape, but he did eventually get back home.
At one time Bob drove a bay mule and a gray mule named Trossie. In later years he drove the gray mule with a horse. He kept a few cattle, and when he decided to sell some, he tied them together and drove them on foot all the way to Islay. His dog Tootsie would accompany him.
Bob also raised a garden, milked cows and churned his butter in a wooden churn, outside in the yard, weather permitting. Mrs. Dewey assumed.that the three pound pail of salt he got from them was for sauerkraut or some such thing, until George discovered it was being given to the mules. The salt was purchased in fifty pound bags and had to be hauled all the way from Kitscoty. Bob often asked George for tobacco, although George never smoked. He had also done some experimenting with various plants as medicines.
Once Henry came up to take his father back with him. Bob went so far as having a sale (acting as his own auctioneer) but backed down later and had to start over from scratch.
As the years went by his mental state became a cause for some amusement, and then concern. One night he was to stay at Ed Rushfeldt's and a bed was prepared in a granary. Unbeknown to the family he moved out into the straw stack in their pig pasture. Fortunately he had no confrontation with a rather mean boar, also out there. Sometimes, when offered food, he would eat it on the spot. At other times he would say, "I take it home to analyze it."
One of his greatest ambitions was to invent a perpetual motion machine. How far this idea got no one seems to remember. Another plan was for an overall factory. A building of squared logs was started and the walls built up about half way. He had suggested that he would do the cutting, Berta Dewey would do piecework, and Kittie would do the sewing. The overalls were to be for women so he would get to measure all the ladies. When all this didn't materialize he talked of using the building for a canning factory.
A fourth idea was to make wooden shoes for sale. Another involved muskrats. There were three or four shallow wells and a number of sloughs in the area. If muskrats could be crossed with foxes the offspring would have bushy tails and the pelts would be worth more money.
Once Dr. Miller was out to dinner in the district. That day he went out for a walk with Bob and heard many stories. Bob began to show up a various homes in the middle of the night, and his neighbors began to wonder if he was any threat to the welfare of their families. Dr. Miller was contacted and he came out with the R.C.M.P. Bob was taken to an institution to be cared for until the end of his days. Almost as soon as he was gone his belongings began to disappear. Jim Rainboth bought the quarter from the municipality. In 1944 he sold it to Ed Rushfeldt who, in turn, sold to Merle George in 1957.
Bob never did get back to the district but once Muriel and Marjorie Rushfeldt thought so. The family was looking after Bob's horses until a sale could be held. The two girls were bailing water from a shallow well when Shirley appeared, dressed up to look like Bob. Needless to say the pail went down the well, uncontrolled, and much faster than ever before.
It may be that this story will remind us to value a sound mind while we yet have it. There are those who will cite "living alone" as the cause of Bob Newman's state of mind. But there are certain bachelors (and perhaps even some husbands) who have weighed the pros and cons and have come to a different conclusion.