THE FRED HAASE STORY
by sons Alvin and Bob
Fred and Margaret (McNicel) were married in Ardmore, Alberta in 1927. They made a living mainly by trapping in, the Cold Lake area till 1931. Meanwhile, Fred had built a dance hall where he played his violin for many dances. The original building still stands, having been used for various purposes after it was no longer used for dancing. From there they moved to Youngstown in about 1934, and farmed in that community with his father and Clyde Resler. Clyde was married to Fred's sister Alma. In about 1935 they went north, close to Beaver Dam, Alberta, and took up homesteading with oxen. Fred had four oxen, two of them weighing over two thousand pounds apiece.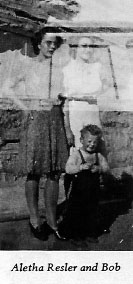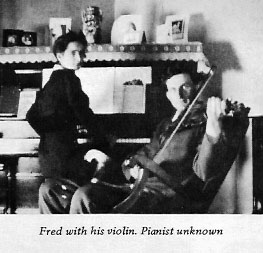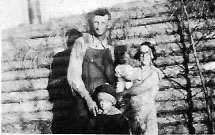 Fred, Margaret, Al, Ed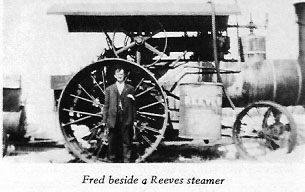 Later they moved to the Frog Lake area, where they lived near Resler's on land known as Carlson's. At this time there were seven children, five attending Norway Valley School. They moved to Mission City, B.C. in 1947, where they farmed a thirty-acre fruit farm until Fred's death in 1948. He was struck down by a hit-and-run driver, then suffered a stroke, followed by a heart attack. Their children are Alvin and Fred of Calgary; Edwin and June of Chetwynd, B.C.; Bob of Rock Creek, B.C.; Allan of Greenwood, B.C.; and Shirley of Haney, B.C., where Mother also lives. All are married with families.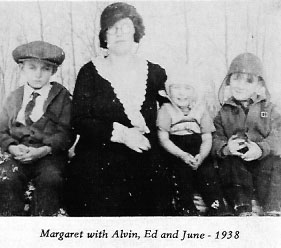 After the death of my father in 1948 I (Bob) was adopted by the Patterson family at Bridesville, B.C. I returned to the Norway Valley district in 1956, and then until 1964 migrated back and forth between B.C. and Norway Valley every year. In 1960 I was married in Watcom County, Washington, U.S.A. My bride and I returned to the farm at Norway Valley. Being a restless fellow I moved the wife and family, which consisted of two daughters and a son, to Dawson City, Yukon, where I worked for a period of two years on the gold dredges. In 1966 we moved to Chetwynd, B.C., where I took over management of the Del Rio Ranches. While there, our youngest daughter and son were born. Two years later I started the "P&H Logging Company", which I ran until 1973. Moving again, this time to the southern interior of B.C., I started a post, pole, shake, and lumber business in the Westbridge-Rock Creek area.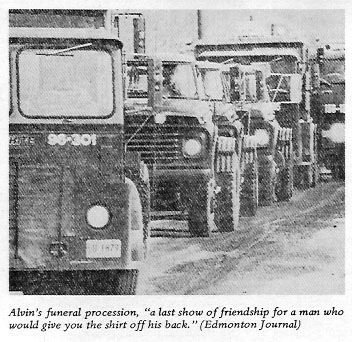 Alvin had driven for Canadian Freightways Ltd. in Calgary for sixteen years. He was killed early in 1976 two blocks from his home, pinned in his truck. He had been travelling down a main thoroughfare when the end of a turning city garbage truck swung around and demolished the cab. Forty-three Freightway trucks and eleven trucks from the city joined the funeral procession. There was a seven-block line-up, with sixty-two policemen escorting it. Alvin is survived by his wife, two sons and four daughters.