THE STORY OF CHARLIE TWAROG
by Brenda Chomlack, granddaughter
Charlie Twarog sailed from Poland in 1927 to the Canadian docks in Halifax, Nova Scotia. It took eighteen days to sail from one coast to the other on the ship "White Rose." Five of those days were on a small boat from Danzig to Liverpool. From Halifax he took the train to Winnipeg, where he stayed for six days. Continuing the journey by train, Charlie went to Edmonton, the capital of Alberta, where he stayed a week before continuing by train to St. Paul. He stayed there only five days. He walked from St. Paul with four other men; staying at farmers' houses, they walked to the Landonville Store. Mr. Landon put them up for the night as they were very tired. It cost them 50 cents for room and board. The four of them continued walking, thinking where to go. They decided to go to Saskatchewan for employment and continued on their journey. They were near Islay when they met two farmers delivering their hogs to market. The farmers, Mr. Fred Bazian and Mr. Joe Kuziw, stopped and they asked how far it was to the nearest farmer so they could spend the night. As they talked Mr. Kuziw said he needed a man to work for him. Charlie decided to go with him. The other three men continued on to Saskatchewan.
March 16, 1927: The first month and a half Charlie worked for Joe Kuziw for room and board, until spring work started, then he got paid $35.00 a month. He drove six horses on a gang plow and did other jobs until spring work was done. He grubbed trees for a whole month until his hands were full of blisters; they broke that land with six horses on a 22-inch Cockshutt breaking plow. In the harvest season Charlie got a raise of $1.00 a day for stooking. In the winter time he helped Joe cut logs at Gamier Lake. They hauled them for twenty-two miles in bitter cold weather. All he got out of it was his room and board all winter. He worked for Joe Kuziw for three years until he got a quarter of land from the British Dominion Land Company for $12.00 an acre. That was in 1930. The down payment was $160.00 and the rest of the payments were at 6 per cent interest. He cleared and broke thirty acres and the following year put it into wheat that yielded thirty bushels to the acre. He sold it at 18 cents a bushel (that was number two wheat), so he could make extra payments on the land. The money left was used to buy a sulky plow and four horses, with which he farmed the land until 1943.
In 1932 Charlie Twarog married Edna Gochko, on May 28. They raised four children: Johnny, Pauline (Chomlack), Ruby (Vinge), and Dennis. In 1944 he bought two quarters of land from Leonard Coombe near Whitney Lake. He moved there in February 1945 with his family into an old shack made of logs and moss-mud. They improved this to a modern unit with most of the up-to-date equipment. In 1970 Charlie and his wife retired to the town of Elk Point.
---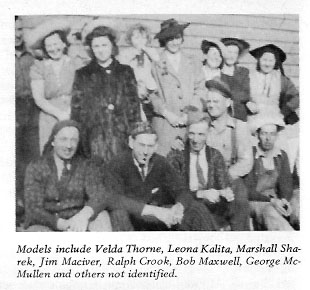 Hat Show