A LETTER FROM ISABEL HOLMES
Dear Friend
Thank you very much for taking the trouble to write to me. I hope I can be helpful! First, I will try to answer your questions, then add what I can. Clyde Bennett Holmes— born December 18, 1887 in Chicago, Illinois. Isabella Lucinda Millard Holmes—born March 26, 1897 in Milwaukee, Wisconsin. (Isabella, by consent of her mother, dropped the "la" in her name, thereafter being Isabel). Parents of Isabel: Charles F. Millard and Millie A. Campbell. Parents of Clyde: Frank A. Holmes and Jennie R. Dove. Clyde and Isabel were married at Crown Point, Indiana in 1915. Children of Frank and Jennie Holmes: Harvie L., Frank M., Minnie J., Carol B., and Clyde G.
I understand Frank and Jennie Holmes were raised in northern Illinois and western Iowa; both were of English descent. I recall some towns they talked about and lived in, such as Chicago, Rockford, Belvidere and Winnebago. Both grew up on farms. After marriage, Frank worked on the railroad and lived in Chicago. In fact, after they left the Frog Lake area, they lived in Edmonton for awhile and Frank worked on the railroad out of Edmonton, going north to the end of the line. On one trip, while heading for Edmonton, a woman gave birth to a baby-quite exciting!
Frank and Jennie's first two children, Harvie and Eva, married in Illinois (Belvidere, I believe). Clyde, when grown up, decided he wanted to see the U.S.A. Having learned the baker's trade, he set out, working and travelling from one town to another. It must have been shortly before World War I that there was talk of great job opportunities in Milwaukee, Wisconsin where Allis Chalmers company built a large manufacturing plant. The eldest son, Harvie, and first son-in-law, Frank Stowell (who married Eva) went to Milwaukee and got jobs. They went home weekends, and eventually all moved to Milwaukee.
Note: I speak of Milwaukee, but in fact, it was on the outskirts of Milwaukee where they settled--a suburb called West Allis, where the Allis Chalmers factory was located.
My oldest brother, Gardiner, met Mildred Holmes and in time they married. Shortly after, Clyde came home to visit and I, Isabel, met him. Clyde said it was "love at first sight" for him, but it took a little time for Isabel to know he was her true love.
Charles Millard's family dates back to the Huguenot Wars in France when people came to America for religious freedom. Some settled in the East, others moved on to the Milwaukee area. Minnie Campbell's parents came from Scotland as new bride and groom. They must have arrived about 1865. They brought an enormous chest filled with linens made on the family loom. The chest is still in the family here, as well as Grandma's quilt, the likes of which a girl made by hand while awaiting her marriage. I also have a log cabin quilt, made for my mother's first baby. Alas, I did not know what treasures these were, so I used them, and they were so good to use.
Charles' family were merchants or various business people and some entered- the ministry of God. Minnie Campbell's father was a foundry man and an expert bell maker. He established a foundry in Milwaukee and was famous for making the City Bell as well as many church and school bells. He tested by melting various metals to get the most melodious tone. The foundry, of course, made other products usually made in foundries. Minnie and Charles raised six children: Gardiner; Lawrence; me, Isabella; William; James and Edith. I met Clyde in 1914 while I was in my last year of high school. On my 18th birthday in March, 1915, Clyde asked me to be his wife. I accepted and we married soon after graduation. My oldest brother, Gardiner, married Clyde's youngest sister, Mildred, about one year before Clyde and I married.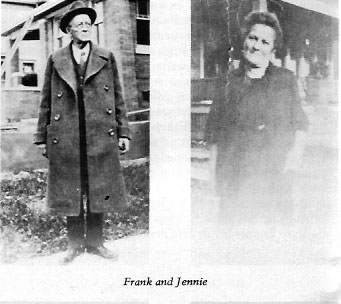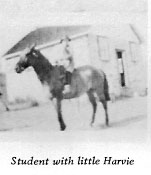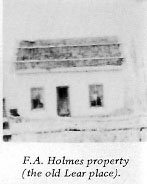 There must have been much talk of how homesteading was a good way to get a start in life. Frank A. Holmes inherited a small gift and went to Frog Lake and purchased the property known as the Lear place. It had good buildings, land cultivated, etc. They took Harvie, wife Mary, and son Jack up with them. They were enthused about the country and suggested that daughter Mildred and husband Gardiner, and their son, also Clyde and I, file on a claim. This we did. After settling on the Lear property, Frank and Jennie Holmes made a trip back to Milwaukee in the fall of 1915. In the spring of 1916, Frank and Jennie Holmes, Gardiner and Mildred Millard and son, and Clyde and I all left Milwaukee for Frog Lake, Alberta, Canada.
We travelled by train as far as Kitscoty. The train was a tourist special which allowed the people to prepare their own meals in a small kitchen, and they could sleep in the same car. Those who chose could go into the smoker car to sleep or smoke. There were no curtains or bedding there, but the seats stretched out so one could lie down. Clyde went in to sleep awhile. When he awoke, he found an Endian woman had lain down beside him.
Note: The party was met at Kitscoty by Harvie J. Holmes and on Jack, age four. After loading the triple box wagon with supplies, two spring seats were placed on the wagon and passengers embark- 'd. The river--30 miles north--was reached by evening. Everyone ay side-by-side on the ground in a log shack and slept the night. In morning they resumed the trip and travelled the 15 or 20 miles o the homestead.
At this time, Harvie had his house built. Gardiner, vlildred and baby stayed with Father and Mother Holmes )n the Lear property. I believe the Lear property was two Hiles west of Harvie's house. Clyde and I stayed with farvie and Mary. This was the spring of 1916. I was given he choice of going to the hospital at Onion Lake to have my baby, or stay at home and have a local midwife attend. If I went to the hospital I would have to go alone and be away from home for about a month. I decided, being young and healthy, I would stay home. The baby arrived June 22, 1916 with Mrs. Bess Sillem attending and Mrs. Nelson helping.
The three successive summers that the family was in Canada the early frosts spoiled the wheat and grain, so there was no flour to grind or grain to feed. By fall of 1916, Gardiner decided it was hopeless for him to stay. Reports came of good work at Milwaukee, so he returned there. His wife and son followed after a time. A neighbor living alone near Harvie's house wanted Clyde and I to live in his house during the winter and care for his horse. This we did. During the winter, Clyde became ill and no one seemed to know what the trouble was. He was in great pain but no doctors were available.
At this time the schools opened in spring and ran right on until December, having the long vacation during the severe winter. Father Holmes was on the School Board of the Martin School District No. 3096. In 1917 they began to look for a teacher. This was during World War I and all efforts went to the war. There was a serious shortage of manpower as most people went to the cities, leaving the country areas destitute. Father told the Board he thought I had enough education to teach, so my credentials were sent in. The Province accepted and gave me a permit to teach for one year. The Board, knowing of Clyde's illness and our need for cash, issued the first month's salary in advance so Clyde could go to Edmonton to a doctor. Mother Holmes cared for baby Harvie and I walked the two miles each way every day to teach. I still have my contracts for teaching, as well as the permits from the Province. The names on the contracts are: Joseph Martin, Board Chairman; and F.A. Holmes, Jenny Holmes and Martin Lisac, witnesses. Clyde got better and came home. When the school inspector examined the school, he seemed pleased with conditions. He explained about the special course in teaching to be given during the winter, in Calgary. This was a brush-up course for teachers who had been absent from teaching for some time and were back teaching. He suggested that I try to take the course. After taking it, the teacher would be given an interim certificate to teach in the three western provinces. After two favorable reports from the Inspector, the interim certificate would automatically become lifetime. This seemed a fine offer, so in the fall Clyde, myself and baby moved to Calgary. This was autumn of 1917. Clyde got work shortly. An elderly lady who lived in the same apartment building with the family took care of the baby. Trouble seemed to plague the family. Baby Harvie and I got the flu, which kept me from school a few days. Just a few mornings later, everyone in the building awoke very ill. It was gas poisoning from a plugged furnace exhaust pipe. Two or three more school days lost. When all trouble seemed overcome, the Granny babysitter moved out of town. Help was just about impossible to find, so I gave up hopes of continuing at school.
Soon after New Year 1918, word came from Frog Lake that they wanted me to teach another year at Martin school. At this time Clyde decided he wanted to return to Wisconsin, so he remained in Calgary to earn money for the trip back. Baby and I went to Martin School District. The school had a small house built nearby for the teacher, and I was able to hire an Indian girl to take care of young Harvie. She lived with us. The girl's name was Julia Quinney. Her father was a missionary on the reservation.
Family ties were too strong for Clyde to resist, so in July 1918, he came to the school to be with his family. He was there for two weeks, and then went to Saskatoon to work, thinking baby and I would join him when school closed and we all would return to Wisconsin. Fate again intervened! This was the year of the terrible flu epidemic which took so many lives. Clyde became ill with it and was taken to an emergency hospital. As soon as he had passed the "crisis" they released him and sent him home. He was still very weak and took all winter to recover. In the spring of 1919 our family went to Edmonton and Clyde joined a man in a small lunch room venture. This also did not work out well. In summer, Clyde gathered equipment together and set out to operate a lunch stand at the area fairs in Alberta. The family went with him. When the season ended we had crossed the border into British Columbia. Work on the government reclamation camp turned up, and Clyde worked in the cookhouse until camp closed in late autumn. Then on to Vancouver. Clyde got work as a chef in a large restaurant and things went well all winter. In spring he went to work as chef on the Canadian Pacific Railroad. He worked on the deluxe run from Vancouver to Winnipeg and back. A second son, Frank, was born June 18, 1920. In the fall, when the deluxe train was removed for the winter, the family returned to Milwaukee.
There are many pleasant memories of Canada. I was young and so much in love with my fine husband and so happy with my children, that my world was full. Many things around me seemed of no consequence, so I guess I missed some things, but it didn't matter to me. One day, shortly after our first son was born, in the Frog Lake area, brother Harvie and Clyde went on an errand. They passed a field full of lovely flowers they called Moccasin flower, growing wild. The men stopped and picked a whole armful and brought them to me. I have never seen anything so beatiful as those little flowers of the orchid family. They were shaped like a moccasin—yellow in color—and waxy looking.
I have tried to remember about the pupils I taught, but can't think of many. I remember the Gunderson children— four came to school. Their father was a preacher. Then a Scotch family, I think there were three children, the family name was Rowan. And Mrs. and Mrs. Lisac had an adopted child who came to school. I think there must have been more, but I can't say. I enjoyed teaching and I think the pupils enjoyed learning. I can't think of many sad or unpleasant things while in Canada, and I know my time there contributed to my having a very full and good life.
Here in Wisconsin we have lived in several towns and have operated restaurants. We went through the Depression of the 30's with the first four children, always managing to have enough, but no extras to speak of. When we arrived in Wautoma, we knew it must be our last move. Our youngest, Clyde, was born in 1937 and we came to Wautoma in 1938. The first year was very difficult. We had opened a restaurant, but business was so poor that Clyde didn't know from one day to the next if he could hold out. Then after a year, we became known and things began to pick up. Next, World War II came on, and things were really booming. But the stress and strain of the lean years played r havoc with Clyde. Mayo Clinci at Rochester, Minnesota said it was worry and hard work that broke down the liver, heart and kidneys. After an illness that lasted almost two years, he passed away April 15, 1944. He was 56 years old.
I don't know when Frank and Jenny Holmes came back to Wisconsin or when brother Harvie and family did. It must have been shortly before or after 1920. I regret I haven't the dates I should have. There was so much to do. I guess I neglected many things I should have done. I do not have the dates of some of the family's deaths. Guess I left it up to the older Holmes's. The Frank Holmes family all are gone now. Harvie J. Holmes, 60, died at West Allis on June 4, 1943. His wife, Mary, died at 62 in West Allis on April 14, 1944. Their son, Jack died at age 60 in West Allis on November 27, 1972. Jack had come to see me about a year before he died. He told me he had just been operated on for cancer of the colon. The doctor was sure he got it all. He had married when a young man, and had one daughter. The marriage was not successful and he was alone for quite some time, it seems. I don't know when he remarried, but I met his second wife, Rose. She seemed a fine person, and I'm sure she was good to Jack. Rose and I still exchange Christmas cards.
I was never schooled in "writing" a book so this material probably looks like a terrible jumble to you. However, if it will be helpful to you, I will be happy. My son Clyde and family were so thrilled at meeting you and your gracious treatment of them. I thank you very much for being so good to them.
(Editor's note - Clyde Holmes Jr. and family visited Frog Lake this year, 1975. It is the first time any of-them have been back in the district since they left. Harvie, Mary and Jackie were still here in the mid-twenties.)
Clyde was only five when his father died, so he has missed much, not knowing his father very long. Since the others were all married, Clyde and I had each other. I was glad we named him for his dad. I have such a wonderful family and am so thankful. After Clyde died, I managed the restaurant until I retired in 1961 at age 63. Clyde Jr. married in 1959. All my families live in Wisconsin and come to see me often. For several years now the "clan" has gathered for Thanksgiving Day. My elder daughter married a farmer and lives just five miles from Wautoma. We gather at the farm for the reunion. I have five children, seventeen grandchildren, and six great-grandchildren. All are becoming fine citizens (no horse thieves). I have good health and keep happy and thankful. I live alone and keep busy. I cook all my food from scratch. Since the daughter from the farm also works in Wautoma, I try to keep her family supplied with baked goods for which she reimburses me. I also do considerable sewing on my electric sewing machine. Arthritis keeps me from hand sewing. I also like to knit, and am now 78 years old.
I wonder if the Mrs. Franks you speak of is the one I met who lived neighbor to Harvie? The first year in Canada the men all went near Kitscoty with a threshing crew. While they were gone, the threshers came to the Franks place. Mary and I went over, as Mary was to help. We had Jack, and my baby just a few weeks old, with us. At dinner, there were so many goodies that I hadn't had in a long time, and not knowing what would happen, I ate unwisely— pickles among other things. Of course, I was nursing the baby. Just about the time we were ready to go home, baby Harvie started to cry—and I mean CRY. We tried everything, but nothing helped. Finally Mrs. Franks said we should give him a little brandy. I was horrified! At home we were tee-totalers. My grandmother on my father's side was one of the founders of the Women's Christian Temperance Union. I held off for awhile, but finally broke down and gave my baby to Mrs. Franks to administer the "poison." In a very few minutes he stopped crying, and someone drove us home. The baby slept all night and I was sure he was drugged. Of course, he was fine the next day. (I hope you get a laugh from the above—I have, often!).
Thanks for the folder. The shack at the Heinsburg ferry site looks just like the one we slept in, but my brother said we did not cross at Heinsburg, but at another point on the river. When we arrived at Frog Lake, the Postmaster was Harry Bowtell. With best wishes for the success of your book.
Sincerely,
Isabel Holmes.