MEMORIES OF BYGONE DAYS
by Michael Kowal
I was only five years old when, in January, 1910, my father and mother, John and Katherine Kowal, left our homeland in the village of Denysow, not far from the town of Ternopol in the Ukraine, leaving our dear. loving relatives and friends to look for a new homeland across the sea, thousands of miles away. My parents, with my two sisters, Annie and Mary, and one brother, Fred and myself started the long journey - first to Antwerp, Belgium, where we arrived on February 23 and boarded the ship "Montreal" to arrive in St. John, New Brunswick on March 14,1910. The only one on the ship to get sick was my mother. We then travelled west by train as far as Lamont, Alberta, arriving about ten days later. Spring had arrived; the weather was beautiful with the snow melting.
One of our friends, Mr. William Makohin, met us at the railway station and took us with his horses on to Wostok. My father left all of us there for awhile and went with his friend to look for a homestead for us. A week or so later Dad came back and told us he had found a homestead on S.E. 2-56-5-4. Then, first of all, he bought a pair of oxen and a wagon, and with all of our personal belongings we brought from the Old Country we started for our new home, taking along with us two cows which Dad had also bought. There were no roads then, so we travelled over bush trails and through muskeg. It took us about a week to get to our new home. We did not have too much trouble as our wagon was new, but we had to unload it in muskeg and push it out because the oxen could not pull it through. We stopped in Edmonton on our way to our homestead and Dad bought a beautiful, big black stove, for which he paid $35. to $40. The stove caused us some hardship, as when travelling we had to stop at some farmer's to rest and feed our oxen, but the people figured that because we were hauling such a nice fancy stove we were rich and did not want to feed our oxen hay.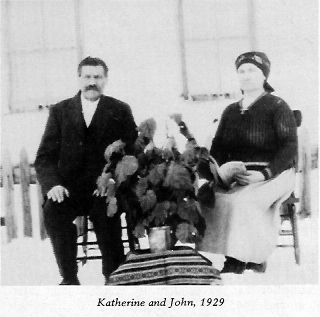 When we got to our homestead the first thing Dad did was build us a one-room log cabin with a sod roof. Even though I was very young then, I remember that the sod roof was good for dry days, but on rainy days the drops of rain were bigger inside than outside — but we were all happy in our new home. Soon after, Dad and Mom, with help from us children, built a better house, with two big rooms and no leaky roof, a barn, and started fencing the land. With the oxen Dad plowed a few acres using a twelve- inch plow. Our furniture was all made by hand by Dad. We had a large table with benches around to sit on. Our beds were made of gunny sacks filled with straw, which were placed on the floor, and for covers we used the feather quilts Mother brought from the Ukraine. During the winter months Mother or Dad would get up several times during the night to put wood in the stove to keep the house warm.
There were just three families of us for a while, but one by one, by the next year, there were enough settlers so that Mr. William Makohin opened a Post Office, which he named Primula, and thus the Primula District came into being. We all worked very hard, and everybody was happy. All the neighbors helped each other and got along fine. By now our family had grown by two more girls, Lena and Helen. In the summer of 1913 the people built a school house, and the Primula School District No. 2954 was formed. The following year our first teacher came. His name was Mr. J. Davis, but he only lasted for four months. The next year the new teacher stayed for only a few months also. It was hard to get teachers those days, which made it harder for us because each time we would have to learn all over again. In the spring of 1917 two church ministers organized a group of us boys and girls and gave us a chance to go to Vegreville to a home. From there we went to the public school in the town. It did not cost anything because the church ran the school, so I thank those people and my parents that they gave me a start.
In the fall of 1918 the 'flu was so bad that all the schools were closed for two months. We had to go home, so six of us boys took the train to Vermilion. When we got to Vermilion nobody was there to meet us to take us home, so we started walking to our homes 45 miles away. On our way we stopped at a few farmers' homes, where we asked for something to eat. Since we all were wearing masks on our faces all the farmers were afraid of us. We had to wear the masks because of the 'flu and the health regulations. Finally one farmer, a Mr. White, was kind and gave us some lunch, and then drove us with his team, ten miles toward our homes. We were lucky that year, as in our family no one got sick with the 'flu. In the fall of 1919 we had an early cold winter with the 'flu so bad, and all of our family was sick. Because of the early cold winter, feed for the cattle was short. We had to use the straw from the roofs of the few buildings we had, or the cattle would have starved. To buy a load of straw three years old cost $5. and we did not have the money to buy any. In the springtime the cattle were so weak that a lot of them died.
We did not have very much money, and, like all the other farmers, had to live off the land - wild berries that were picked, and what prairie chickens and ducks and the occasional rabbit Dad got with his shotgun. This was the only gun he had. We grew our own vegetables and had our own milk, cream, butter, and eggs. Our nearest store was at Vermilion about 45 miles away, and it took four or five days to get there and back. By now we had traded our oxen for horses. We only went to the store twice a year, and sometimes had one of our neighbors get something for us. We could not afford to buy too many things, and I remember Mother making a sort-of coffee from rye grain, which she roasted in the oven and then ground. We often sold eggs and homemade butter in town to be able to buy a few things. It was hard work on the farm as we had to clear the land by axe and grub the stumps out. We cleared about ten acres of land each year in this way. We planted wheat and potatoes, and the first year cut our wheat crop by hand using a scythe. The following year a neighbor bought a binder so he cut our grain with it.
Many winters it was down to 65 degrees below zero. We had no school buses then and walked four miles through snow each day to school. We had no electricity or gas, so had to burn wood in our stove in the kitchen and in the heaters in each room to keep the house warm. We were happy anyway with what we had. When I finished school I helped Dad on the farm, and sometimes worked out. I remember my first job when I was 18. I was paid $15. per month plus room and board, working from early morning until late at night, looking after cattle and doing chores on a farm near Islay. The most money I made was when I was 20 years old, working for the railroad in Saskatchewan. I was paid $60. a month, and room and board — the lice in the bunkhouse were for free.
For entertainment we held dances and concerts in which a lot of the local people took part. They acted in plays and skits, sang, recited, and played musical instruments. These get-togethers were held in the school at first, and later on we built a hall. Some of the farmers made moonshine and sold it for 25c/a bottle. Often in the evenings, when we had our chores finished, or if neighbors dropped by, we would sit around and play cards or read. Mom, my sisters, or one of the neighbors would take turns reading while the rest of us gathered around and listened. In those days we used kerosene lamps to light the place up, as there was no power of any kind.
In the fall of 1927 a girl came, from the same village in the Ukraine as I did. On February 15, 1928 I took this girl, Stefania Steslowuch, for my loving wife, and we have been living happily together since. We were married in Vermilion, but had to arrive there two days before so that we could do some shopping, and the girls could have dresses made for the wedding. It was 25 below zero, but we kept quite warm in the sleigh, all huddled together under quilts. My sister Lena was the bridesmaid, and Joe Kruchik was the best man. When we returned to the farm I had to go by horseback to all of our friends and neighbors to invite them to our wedding supper and dance. There was no other way of letting our friends know that we were back. We had about fifty of our friends and neighbors at our celebration, which was held February 18 at my parents' home.
In March 1928 Dad got sick and signed the farm over to me. I became a farmer on my own, but it was not easy those years. Our first son, Leonard, was born February 14, 1929. Things continued hard on the farm, for in those days the government did not help the farmers as they do now. On January 6, 1931 Dad passed away at the age of 64, just at the time the depression years started. Wheat was selling at 254 a bushel, oats at 7¢ a bushel, and eggs at 54 a dozen. In the fall of 1930 I took six hogs to market and was only able to get $18. for them - $3. a hog. My wife had given me a list of groceries to buy, but I only bought a few things and left a few dollars to bring back. We had a few cows, and my wife got only $2. for an 8-gallon can of cream. We often picked blueberries and sold them in town along with cabbage and potatoes, especially during harvest season, so we could at least buy some twine for the binder.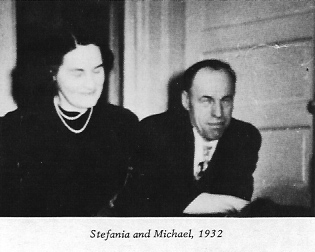 We liked farming anyway, and I was interested in community work. By now we had three boys, Albert and Eddie besides Leonard, and one girl, Elsie. On July 3, 1942 we lost dear Eddie because of an accident on the farm; he was only 5 1/2 years old. It was a big shock to all of us.
I was interested in school affairs and in the municipality as I loved to meet people. I spent 15 years on the school board and 6 years as Municipal Councillor. It was while I was councillor that the Municipality bought a large caterpillar, around 1945, and was able to build the first high grade roads in our area.
Because of wanting to give the children a better education we sold the farm in the fall of 1947 and moved to Edmonton. We were able to help Leonard get a University degree as an electrical engineer. He is now in Toronto. Elsie went to business college and is now working in Edmonton; Albert is in construction work as a foreman, also in Edmonton. We have eight lovely grandchildren, and both of us are retired. We are taking it easy, waiting to see what happens to the inflation now. I think hard times similar to the 1930's are coming back, but maybe in a different way.
When we moved to Edmonton my mother came with us. She did not like the big city, so moved back to the farm to stay with my sister, Lena Kuziw, and her husband Walter. Mom passed away on Christmas Day in the year of 1959, when she was 85 years of age.
"Great is the world and wide it goes,
Through empty heaven, without repose,
Nobody knows where it stops,
And nobody knows where we will be at last."