THE KENNEDY SAGA
by Esther (Kennedy) Sandmeyer
Mr. Arthur Kennedy, born in Kansas City, Missouri in 1891, son of Mr. Walter Kennedy, born in England, and wife Mary (Roberts), born in Chicago, Ill. Mr. Arthur Kennedy married Miss Nora Bell Lebow on April 3rd, 1909 at Osceola, Missouri. Miss Nora Bell Lebow was born in 1888, at Lowrey City, Missouri, daughter of Issac Lebow and wife Mary (Murphy), both born and raised in Tennessee.
Mr. and Mrs. Kennedy farmed in Missouri for eight years before coming to Canada in March 1917, with their two oldest children, Margaret seven years old and Esther five years old. They came to the Rife district, half way between St. Paul and Bonnyville. Mr. Kennedy came to be a partner and ranch manager for his cousin Maurice Destrube, who was married to Mrs. Kennedy's sister Margaret, who beside cattle ranching had a small trading post on the banks of Thin Lake River, flowing out of Bangs Lake into Moose Lake.
Mr. and Mrs. Kennedy stayed with Mr. Destrube until March 1920, when Mrs. Kennedy took the girls and went back to Missouri to await the arrival of their third daughter Maryann, born June 25, 1920. While Mrs. Kennedy and girls were in Missouri Mr. Kennedy rented a farm in the Hairy Hill district, twenty miles north of Vegreville, where the family joined him later that year. There they lived until the early spring of 1922.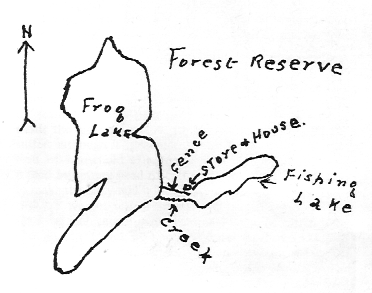 In the spring of 1922 Mr. Kennedy was anxious to get back in to the cattle business - he bought 100 head of cows and decided to trail them to the forest reserve in the Frog Lake - Fishing Lake area. To take his family with him on this trail drive he put a tent up on a hay rack, made comfortable with the floor well covered, a camp stove, beds and a few other household necessities, and left Hairy Hill for their new adventure.
They left Hairy Hill in early April, Mrs. Kennedy driving the team on the rack, Mr. Kennedy, along with Billy Price and son Joe Price, driving the cattle and several head of horses behind.
All went well until they arrived at the North Saskatchewan River near Heinsburg and found the river beginning to break up. This necessitated a stop over at a farmstead (the name of these people we cannot recall) for several days until the weather turned colder and one early morning Mr. Kennedy decided it was then or never. The river crossing was made without incident and they were on the last leg of their cross-country trek for the Frog Lake district.
The Kennedys made their home and ranch headquarters on the south-west banks of Fishing Lake, subsequently Mr. Kennedy built a mile of fence between Fishing Lake and Frog Lake and ran the cattle and horses between the two lakes on the open forest reserve which ran for many miles north of the fence.
The first year they were at Fishing Lake they lived in a small one-roomed Indian shack. In the spring of 1923 Mr. Kennedy built a nice three-roomed log cabin with an upstairs bedroom. He also built a log trading post and traded with the local Indian families living around this little lake and the area, buying their furs and berries.
In the fall of 1922 Margaret and Esther were sent to Frog Lake to go to school, boarding at the home of Mr. and Mrs. Alex Peterson: Mr. Peterson was teaching the Norway Valley school at that time. In the spring of 1923 the girls, continuing at Frog Lake, stayed with Mr. and Mrs. John Fry, who lived on the banks of a little lake called Ross Lake, west of Frog Lake. During this spring they kept two ponies at Fry's and would ride home weekends. Margaret wrote and passed her Grade VIII exams that June. At that time Grade VIII students had to write Departmental exams.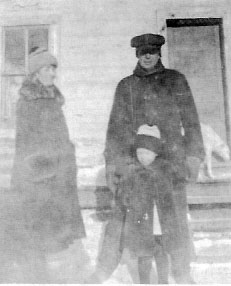 Nora, Arthur, Maryann, Taken at their store at Fishing Lake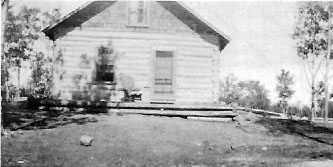 The Kennedy home on the banks of Fishing Lake - 1923-25
Margaret being ready for High School meant that the girls had to go further afield to obtain this, so in the fall of 1923 they went to Vermilion. Mr. Kennedy bought a little two-roomed house from Mr. Markstad , a pioneer of, and perhaps the founder of Elk Point town. Here these two little girls lived by themselves and went to school for two years - the highlight of these two school years was getting home to Mom and Dad and Maryann at Fishing Lake. The great worry was the danger of not being able to get home at Thanksgiving and Easter because of crossing of the North Saskatchewan River at freeze up and break up time.
Each summer Mr. Kennedy would make hay several miles north of the home place and it was Margaret and Esther who would ride their ponies daily to take supplies, and go for repairs to Frog Lake if any were needed. In the summer of 1924 Mr. Kennedy went further away from home to make hay, at Sandy Lake. With him went Len Knight, John Fry, and an Indian family and twelve-year-old Esther, who went along to cook for the men. Esther remained there until September 1st, school opening, at which time Mr. Fry was dispatched with a team of ponies hitched to a democrat to return Esther to Fishing Lake. Margaret, who had remained at home to help her mother look after the home and store, joined them as they continued their journey to Vermilion where the girls commenced their second and last year of school. During the time the girls were at school in Vermilion this sixty-mile trip, over country trails, was made several times each year by Mr. Kennedy with horses, and on one occasion Mrs. Kennedy, with little Maryann, made this long trip with team and democrat.
In the fall after the hay was made Mr. Kennedy built a winter camp and moved the cattle into Sandy Lake to winter them. Mr. Fry, not a young man then, stayed at that camp and was responsible for feeding and caring for the cattle until spring.
The only time a doctor was required was when Maryann was scalded - a near tragedy which happened one lovely June morning when the three girls were home alone with Flora Parenteau, a young lady from Norway Valley that visited the Kennedys occasionally. Flora, preparing to scrub the floor, set a pan of scalding water to which lye had been added, down on the wooden floor, and little Maryann running around the table bumped into the pan putting her arms down into the scalding water to save herself from toppling completely in, sustaining a third degree burn on her arms and chest. The girls tore her scalding clothes off and wrapped her in a sheet and covered the burns with soda - she was just coming out of the first shock when Dr. Miller arrived three or four hours later. The girls had sent a man who was working close by to contact Mr. and Mrs. Kennedy at Frog Lake Village and get them to call the doctor, and of course they returned home as quickly as possible. What a sad day this was for the whole family when they realized what a terrible thing had happened to their baby. Dr. Miller took Maryann immediately to the hospital at Elk Point, and her mother went with her to remain the whole time she was in hospital, which was about six weeks, under the care of two wonderful pioneer doctors, Miller and Ross. This little girl's recovery was remarkable, slight scars on her arms but none on her personality. She went on to graduate as a nurse from the Royal Alexandra Hospital in Edmonton in 1944.
Mrs. Kennedy's great fear during the summers spent at Fishing Lake was of forest fires, as there was a great deal of dry and fallen timber throughout the Forest Reserve. They had no fire protection and would have been in danger of losing their home, trading post and all their possessions if not their lives. However a fire never occurred, to their good fortune.
One enjoyable evening, Mrs. Kennedy relates, was when the family was attending the Frog Lake School Christmas Concert, during the time Margaret and Esther were attending school there, Christmas 1922. Among the many items on the program was a recitation by one of the little Granger boys, who recited thus:
Thirsty days hath September
April, June and November,
All the rest are thirsty too
Unless you make your own homebrew.
This little poem brought the house down, and after fifty- three years Mrs. Kennedy remembers and laughs about it, recalling also that this was during prohibition across Canada.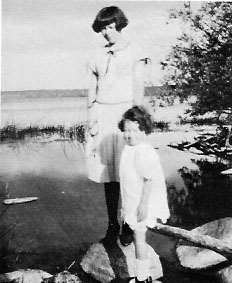 Margaret and Maryann - July, 1924, at the mouth of the creek flowing out of Fishing Lake
In the summer of 1925, because of the continuous depressed cattle prices, and the desire to get closer to school for the girls, Mr. Kennedy bought a general store at Livelong, Saskatchewan, arriving there a year ahead of the railroad. After selling his cattle Mr. Kennedy again trekked across country. Loaded his wagons with household effects, ranching equipment, saddles etc. to Livelong, Saskatchewan. This required several trips in the summer of 1925, where in the spring of 1926 all of this farming equipment was sold at an auction sale. Mr. and Mrs. Kennedy and girls making the trip in the early fall of 1925, in a Model T Ford, across country to Livelong and a new adventure.
Mr. and Mrs. Kennedy, with the help of their three daughters, ran this general store successfully until 1938, when they disposed of it. Mr. Kennedy by then had a section of pasture land and ran cattle in the Livelong district until July 1947.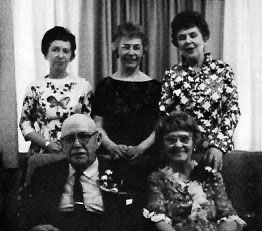 Sixtieth Anniversary 1969
Mr. and Mrs. Kennedy with Margaret, Esther and Maryann
In July 1947 Mr. Kennedy bought back the original ranch at Rife from his cousin and former partner, Maurice Destrube, who then retired to Victoria. Mr. and Mrs. Kennedy successfully operated this ranch until 1962, when due to Mrs. Kennedy's ill health, they decided to move into Bonny Lodge at Bonnyville.
Mr. Kennedy passed away January 10th, 1975 in his 84th year. Mrs. Kennedy is living on at the lodge, a sprightly, happy, well-adjusted 87 year-old senior citizen. Margaret, the oldest daughter, is married to Bert Blair - they have one daughter Alison, sixteen years old, and make their home in Saskatoon. Esther is married to Oliver Sandmeyer. They bought the original Rife Valley Ranch from Mr. and Mrs. Kennedy in 1964 and are presently living on and operating the ranch. They have two sons, David and Frank. David and his wife Sheila live at Calgary, and have two children, Brent and Lynne. Frank was married March 8th 1975 and he and his wife Cathy live in Bonnyville. The youngest daughter Maryann is married to Donald Ford and they live in Calgary. So this brings the Kennedy Saga up to date.